16 Drugstore Concealers For Hiding Those Dark Circles And Beyond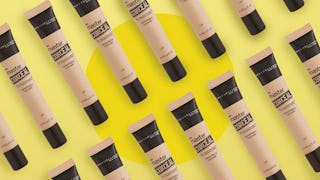 Even all those celebs with seemingly perfect skin don't look flawless all the time—blemishes and dark circles happen to the best of us. Thanks to the magic of a good concealer, you can easily cover up imperfections, even out skin tone, or brighten up your complexion with a quick dab and blend. And there are so many affordable options that you won't get a stress breakout thinking about how much it's going to cost you to hide said breakout.
Ahead are 16 of the best drugstore concealers that have got you covered, across a variety of skin tones and needs. So go out and put your best face forward.
Keep your skin glowing with these other mom-approved beauty must-haves.