15 Drugstore Eyeshadow Primers That Slay ALL Day
by Anjerika Wilmer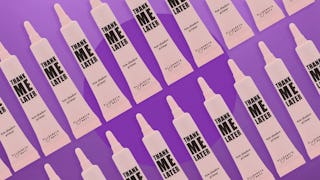 If getting ready in the morning often feels like a relay, then you're not alone. #TiredMomsClub, anyone?
Rather than load you down with heaps of makeup products that you'll never use, we have just ONE all-encompassing product in mind. Today, we're chatting drugstore eyeshadow primers that leave you looking bright-eyed and bushy-tailed… even when you're going on a mere three hours of sleep. Womp, womp.
What is Eye Primer?
First things first, what is it? Eyeshadow primer (usually, of a gel-like consistency) will ensure that your eyeliner/shadow stays in place. Think: long-lasting wear, no creases, and no fading. You may have tried use an eyeshadow base, on the other hand, which is typically thicker in consistency (similar to a concealer) and takes longer to dry. While a base formula gives you a nice sticky canvas to work with, it won't combat oils the way the primer will.
Whether you deal with oily hooded lids or need a product that lasts from a.m. to p.m. (no touch-ups required), we've got you covered with 15 eyeshadow primers that you can score on a drugstore budget.
Best for Oily Skin
Best for Long-Lasting Coverage
Best Bang for Your Buck
Best for Bold Makeup Looks
For your next drugstore beauty haul, be sure to check out these mommy-approved beauty must-haves.