8 Best Drugstore Foundations To Give You An Even Look For Not A Lot Of Money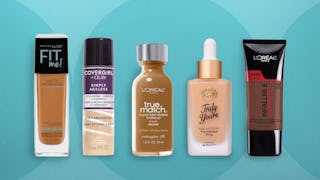 Are you hunting around for a drugstore foundation to perk up and even out your everyday look? Through tantrums, mountains of unfolded laundry, and forever conflicting schedules, you're the foundation of your family, Mama. But most days your perfectly coiffed look's a damn wreck by 9 a.m., and the joke is on you if you even think about wearing white around a toddler. Because spills and sh*t… literally.
But if there's one aspect of your completed look that can't be compromised, and that's your makeup. For example, a good drugstore foundation can hold your complexion down, from the first application at dawn up until the minute you wipe it all away before bed. The best ones won't even smudge or run at the sight of tears (because, yeah, parenting comes with some of those, too).
What is drugstore foundation?
Contrary to what its name suggests, drugstore foundation isn't the base of your makeup (that would be primer). Foundation comes second on the complexion, and it's typically a liquid, sometimes a powder or cream. The purpose of foundation is to level out the complexion. Some formulas are specifically designed to color-correct, conceal "flaws" (such as acne, scarring, age lines and wrinkles), hydrate the skin, and so on.
Keep in mind that foundation, like any other beauty product, isn't necessary. You don't have to wear foundation to look gorgeous. You're a hot mama whether you doll up, or go au naturale. That being said, foundation can give your natural beauty a little boost. You just need to shop the right formula for your unique skin tone and type.
How do you apply drugstore foundation?
All you'll need to apply your drugstore foundation evenly is clean fingers. Sure, you can use sponges, blenders, brushes, and beyond, but we won't tell if you use your paws. And if you don't have time for at least 30 seconds with soap and water before heading to daycare, just stash some Purell in your glove compartment or use a wet nap from your baby bag. Wash off, dot a few drops of the product onto your face, and gently dab for even application.
Unfortunately foundation, like all of life's greatest joys (i.e., dark chocolate, a pint of Ben and Jerry's, becoming a freakin' mom), can be a major hit to your wallet. Luckily, there are a handful of drugstore foundations that measure up to department store bottles. Below we give memorable mentions to the ones you should be shopping. Get glowing and check out our top picks.
For other products to help give you that fresh-faced look, check our other Beauty Must-Haves.
This article was originally published on