Cuddle Up And Binge On These Family Christmas Movies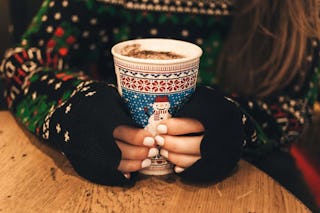 Pexels
If you aren't binge watching classic Christmas movies now through December 25, can you honestly say you're celebrating the holiday season? There's truly nothing more nostalgic than a pair of flannel pajamas, snuggling under the warmest blanket you own, and parking yourself in front of the television. Bonus points if you've got a crackling fire to your left, and giant marshmallows bobbing in a steaming mug of hot chocolate cupped between your hands.
Granted, you might be setting yourself up for disappointment when you start losing yourself in these cheesy, happily-ever-after storylines dressed in fake snow. They never reflect real life, but isn't that what makes these movies so appealing? The illusion of a snow-globe-perfect Christmas? If nothing else, classic Christmas movies really bring Christmas cheer home. And, who knows? Maybe these favorite picks will inspire the whole family to deck their own halls with a little more holly, and spread a little more love and joy (even if that means buying a lot more presents, and getting into even more credit card debt).
BEST FOR KIDS
We promise your heart will grow three sizes on the day you watch How The Grinch Stole Christmas with your child for the first time. Yes, the original cartoon is a classic, too, but Jim Carrey is the ultimate anti-Saint Nick if we've ever seen one. Plus, the live-action rendition offers moments of both child and adult humor, so it's definitely a film the whole family can enjoy.
BEST FOR PARENTS
After you've tucked your little ones into bed, once they're sleeping with sugar plum fairies dancing in their heads, get cozy on the couch with your person for a kid-free viewing of this classic Christmas film. It's a story of budding romance between George Bailey (portrayed by James Stewart) and Mary Hatch (portrayed by Donna Reed), family values, and how the decisions we make affect others.
BEST FAMILY CHRISTMAS COMEDY
Given the option, it's almost impossible to choose between Kevin McCallister defending the homestead against two criminal bums, or the kid's wild adventures in The Big Apple (the ice cream sundae scene is a personal favorite). Luckily, this DVD is a two-in-one deal so you don't have to eliminate one or the other — you can binge watch both with the fam for an epic Christmas movie marathon.
BEST FOR GETTING IN THE SPIRIT
The best way to spread Christmas cheer is to watch ELF every chance you get from now through New Year's Day. Your child will be mesmerized as Buddy brings a little bit of the North Pole to midtown Manhattan in this family classic from 2003. Plus, the film offers a ton of great inspiration for Christmas time activities for your family to enjoy, like making snow angels, going ice skating, decorating the house, and, of course, indulging in the four major food groups: candy, candy canes, candy corn, and syrup.
BEST FOR MIDDLE SCHOOLERS
You might recognize A Christmas Story as that film about a little boy desperate for a BB gun, or the movie TBS plays on a loop for an entire 24 hours on Christmas Day. The 1980s seasonal flick is definitely on the grittier side of the spectrum — there's swearing, bullying, and de-bearding Mr. Clause — so you might want to save this one for when the kids are a little older. Regardless, A Christmas Story is a must-have for every collection …
BEST FOR CHRISTMAS EVE
If Tim Allen as The Santa Clause doesn't give you all the warm and fuzzies of a childhood Christmas, we just don't know what will. And if by some reason unbeknownst to us you haven't seen this epic film, it's clear to us that you had no childhood. The Santa Clause gives kids an exclusive peek inside the double life of Scott Calvin, aka Saint Nicholas, aka divorcee and father of twinkle-eyed Charlie who believes in the spirit of Christmas more than anything. Between magical trips to the North pole, flying with reindeer, meeting and greeting elves reminiscent of story book fantasies, and watching Scott transform into the Santa Clause before your eyes, it's a miraculous tale you don't want to miss. Just don't be surprised when your child starts scanning the lawn for a deflated red suit on Christmas Eve.
BEST CARTOON
The holidays are never complete without Peanuts — and no, we don't mean in a bowl on the appetizer table. In this animated special that dates all the way back to 1965, the ever-so humdrum Charlie Brown can't figure out why he feels so down in the dumps; Christmas time is supposed to be the most wonderful time of the year after all. To spark some holiday cheer, Charlie, Snoopy, Lucy, Linus, and the gang ban together to put on a Christmas Play. Through chaotic rehearsals, and hunting for the perfect Christmas tree, they learn the true meaning of Christmas: peace, love, and goodwill to men. Who knew cartoons could be so heartwarming?
BEST FOR NOSTALGIA
There are classics, and then there are antiques. The Year Without A Santa is definitely the latter. The stop-motion animated film explores what it would be like if one year jolly old Saint Nick wasn't feeling so jolly, and decided to stay in bed instead of delivering toys to all the good little girls and boys around the world. Your child will get a laugh out of the ridiculous brotherly rivalry of the Jack Frost and the Snow Miser, and you'll sit back wondering why they don't make movies like this anymore.
BEST ROMANCE
Watching Christmas movies geared toward kids will no doubt put your entire family in a state of nostalgic excitement for the upcoming holiday, but there's also a steamy side to the season parents can enjoy when the little ones go to bed. The Holiday has something for every couple — there's romance, comedy, and a sprinkle of drama. Starring Kate Winslet, Cameron Diaz, Jude Law, and Jack Black, it's a story about finding true love, and finding yourself in the process. You know, the common themes all those New Year's resolutions you're bound to break before February come from.
BEST ADULT COMEDY
We all aspire to have a quiet, old-fashioned Christmas, don't we? But with a house full of kids (or worse, moody teenagers), and extended family in town, actually achieving it is a long shot. In National Lampoon's Christmas Vacation, holidays at the Griswolds are no less than sheer chaos. Between in-law intrusions, a city-wide power outage, bosses canceling yearly bonuses, it's a holiday from hell that will make you appreciate your own dose of craziness.
Related: 10 Candle Scents That Literally Smell Like Christmas In A Friggin' Jar
This article was originally published on