These Gifts Under $10 Won't Make You Look Like The Cheap Friend You Are
by Team Scary Mommy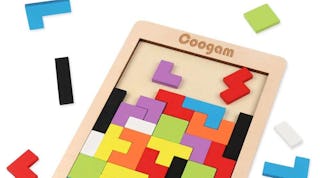 Coogam
Running out of dough? Ho! Ho! Ho! It happens. Stash these gifts under $10 away so when the holiday rolls around, you don't have to show up anywhere unprepared or empty-handed. Here are some of our favorite gifts under $10 for 2019!
Who is it in your life that deserves to be pampered from head to toe? This set includes five travel size BB favorites: a Soap Bark and Chamomile Deep Cleansing Cream, Hand Salve, Milk & Honey Body Lotion, Coconut Foot Cream, and Beeswax Lip Balm. No dry, cracked skin here!
Red wine stains on the teeth or mouth (a.k.a. tannin teeth and malbec mouth) are not a good look, but these natural wipes were made to remove them. Their secret ingredient is simple: Baking Soda, which removes surface stains and neutralizes acids that can corrode enamel. They also contains Hydrogen Peroxide to gently whiten the teeth and kill bacteria.
Each time you mix up the pieces, the puzzle comes out differently, making images such as a human, robot, tree, umbrella, and flower, and the geometric shapes challenge the problem-solving area of your recipient's brain.
Let's face it: Everyone thinks cats are assholes. In fact, a cat would think nothing of peeing on your white elephant gift. So this book is just puuurrrfect.
Ear Fleek is a fun, affordable gift to get your besties, your daughter, sisters, or yourself. They send you a pair of earrings each month, and you choose the style: Boho, silly, or minimalist, and a new pair arrives each month. Who doesn't love to get a new set of baubles in the mail?
Hey, we're not trying to get political here… we're just saying if the wipe fits!
GIFT WITH A (RAIN)BOW
$5.99 AT THE JOLLY CHRISTMAS SHOP
Whoever said that Christmas trees should strictly stick to a red-and-green color scheme was seriously disturbed. F*ck it and go colorful! Add some pink, yellow, orange, green, and blue hues to your tree with this glittery rainbow ornament.
This article was originally published on