When's The Last Time You Treated Your Hair To A Mask?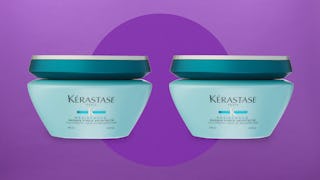 As if your hair wasn't enough of a science project pre-kids, now you're lucky if you can scrap together 2 minutes each day to run a hairbrush and maybe some dry shampoo through it. And, if you're like the rest of us, you probably color your hair, blow dry it and even hot-iron it on a big day/night out. This means you're guilty of over-processing, overdoing it with heat styling tools and applying hair-disrupting chemicals to your tresses.
The bad news: This seemingly inevitable behavior leads to lackluster, dry and/or brittle locks, according to New York City-based master hair colorist Stephanie Brown at IGK Salon. The good news: There are products out there formulated to help hydrate and smooth the cuticle of even near-dead hair. They're called hair masks and they are literally a godsend, especially for new moms struggling with postpartum hair loss and those dreaded baby hairs sprouting out (and sticking up) from every corner of your ever-loving, exhausted forehead.
To score the best results from using hair masks, Brown recommends leaving them on for a minimum of five minutes underneath a shower cap or warm towel to keep the moisture in. "Doing this will help hydrate and strengthen hair, add shine and smooth out frizz," she says. If you're a mom, you probably don't have five minutes a day to designate this hair masking ritual—and that's perfectly OK. Just doing a mask once weekly, or even every two weeks, is gold.
The best ingredients to search for in a hair mask? Oils and butters, including coconut oil, argan oil, jojoba, shea butter, murumuru butter and linseed extract (which comes from flaxseed) are all great ingredients that help moisturize and protect color, according to Brown. In addition, trimming your hair every 8-12 weeks is also a must to ensure your hair stays healthy.
Not all hair masks are created equal, of course, so we're sharing the ones that actually do the work to score you smoother, shinier, silkier and healthier hair overall.
Searching for more beauty must-haves that actually make you look and feel more human? We've got you covered with the style essentials you need to live your best (mom) life.
This article was originally published on