The Coolest Halloween Candies Of 2020 To Impress Trick-Or-Treaters
by Julia Guerra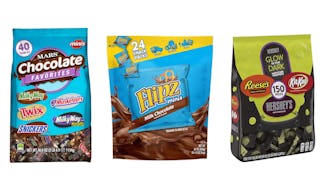 October is the one month of the year when you can go to the store, toss as many bags of candy in your cart as possible, and not one single person will raise a judgmental brow. Though, conversely, come October 31, know that parents and children will be judging you on the Halloween candy you dole out to all the excitable trick-or-treaters. Are you the house that hands out king-size bars or miniature boxes of dried fruit? Did you forgo candy altogether to drop pennies in their plastic pumpkins, instead? Trust us, don't go there. Cash is ideal any other day of the year; but when it comes to Halloween, kids want you to show them the candy.
Now that your pennies are back in the bank, what's it going to be, Mom? Sweet or sour? Chocolate bars or gummy bears? The possibilities are endless and the selection is overwhelming. To help narrow down your options, we've rounded up some of the best Halloween candy to hit shelves in 2020. And remember, you don't have to control your sweet tooth as you start pressing "add to cart." After all, Halloween might be for the kids, but leftover Halloween candy is for the adults.
Is there any greater satisfaction than dropping a full-sized Hershey's Chocolate Bar into the bag of a bite-sized trick-or-treater, only to hear them squeal, "Wow, a big bar!" on their way back to their parents? We think not. Hand out any one of the options from Hershey's assorted variety pack, and no doubt you'll be the most popular house on the block (so you might want to purchase more than one box).
Before you get ahead of yourself — no, Hershey's has not discovered a way to make their chocolate glow in the dark. They have rolled out limited-edition luminescent wrappers for Halloween, though, which is arguably the next best thing. Drop one of these Hershey's Halloween Glow In The Dark Wrapped Chocolates into your trick-or-treaters bags, and they'll probably forgive you for handing out bite-sized pieces.
Sweet or salty? Flipz Pretzel Minis deliver the best of both flavors to your trick-or-treaters' taste buds. One pack yields 24 miniature bags, so make sure to buy a few extra. Whatever's leftover can be tossed into your own child's lunch bag (or stashed away just for Mom). Plus, from now until September 30th, you can enter to win your very own Flipz® Ja-HACK-et™ to store all of your candy and goodies, like Flipz, for Halloween by visiting Flipzsnackhackz.com.
Justin's Dark Chocolate Peanut Butter Cups are a real treat, but the mother of all tricks is hidden in the ingredients list. Each delectable chocolate cup is gluten-free, dairy-free, Kosher, and vegan, and is made from all certified organic ingredients like dark chocolate, cocoa butter, and peanuts. So not only are they delicious, but they're a better-for-you buy.
Chocolate and coconut go together almost as well as peanut butter and chocolate. Unreal Dark Chocolate Coconut Bars are certified vegan, non-GMO, and pack a ton of flavor with only 3 grams of sugar per treat. That means your kid can indulge, sans a mighty sugar high.
A tiny bite of chocolate is a really big tease. Luckily when it comes to MARS Chocolate minis, though, a little goes a long way. But even if just a taste of rich milk chocolate and gooey caramel leaves your trick-or-treaters wanting more, this four-pound bag of MARS favorites full of Snickers, Twix, 3 Musketeers, and Milky Ways yields 240 pieces of candy. In other words, you can definitely spare a handful for every chocolate-lover that needs their fill.
Nothing says "Happy Halloween" quite like a crisp bag of M&Ms. While we're partial to the traditional pack, this M&M's Variety Mix includes baggies of classic milk chocolate, peanut, and peanut butter-filled gems. But don't get caught up in giving each and every trick-or-treater a choice between the three. Doll them out as you see fit, and they can always trade for their fave.
Pepperidge Farm Goldfish Crackers are a must for Halloween goody bags. Not only are they perfect for toddler trick-or-treaters who aren't chowing down on caramel bars just yet, but they also satisfy taste buds that prefer salty to sweet. Halloween is overflowing with chocolate; don't be afraid to be the house that adds a little variety to their stash.
Once you've covered your sweet and salty bases, next comes the fruity candy. Airheads are always a crowd-pleaser because they're chewy, not too sticky, and exploding with flavor in every single bite. They're also free of the big eight allergens, like milk, eggs, tree nuts, soy, and wheat, so everyone can enjoy a piece. Bonus points for the trick-or-treater who can guess what the White Mystery flavor is.
Listen, if you're going to be *that* house, the one that gives out raisins instead of traditional Halloween candy, the least you can do is hand out Sun-Maid's new Sour Watermelon Raisin snacks that pack a little more punch in this healthy alternative to the classic candy bar. Available in four flavors — Watermelon, Grape, Mixed Berry and Strawberry — dried fruit has never been so tasty, not to mention kid-friendly. Trust us; stick with Sun-Maid and trick or treaters won't dodge your house this Halloween.
SmartSweets is all about Halloween candy that tastes good, but that also makes you feel good, too. Rather than feed your child heavily processed bars that get them hopped up on sugar, then have them crashing on your couch from the high, these sour gummy bears are naturally sweetened by Stevia, and contain zero sugar alcohols. Better on their body, better on your conscience. Now that's a treat.
Although we only recommend picks we really love, we may earn a commission on purchases made through links from our site.
This article was originally published on