9 High-Impact Sports Bras That Actually Stop The Bounce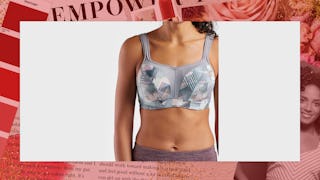 Trying to find a good sports bra for working out is like trying to find 10 minutes to yourself on a Saturday morning when the kids are screaming for snacks and your husband has fled to the golf course. I.e. it's difficult at best and impossible at worst. Every bra you try is either too tight (giving you that oh-so-flattering uniboob) or too flimsy (allowing your boobs free rein to bounce all over the place).
But just like you can snag those 10 minutes once your husband gets home, you can also find that good sports bra—as long as you know where to look and what to look for.
How to choose the best high impact sports bra
We asked Title Nine expert Molly Hanks for her top tips when it comes to finding the right sports bra. "First, the band should fit low and snug around your rib cage—if it's too loose, try a smaller band and bigger cup," she suggests, adding, "Make sure your breast tissue isn't spilling out over the side or the top—if you are coming out of the cups, try going up a cup size." As for the overall fit, Molly says your bra should feel snug and supportive without being tight or uncomfortable.
That all sounds nice, sure, but where do you actually get a sports bra that fits like that? And more importantly, that holds everything in place while you're running, jumping, and burpee-ing? To help you workout comfortably (and jiggle-free), we've found the best high impact sports bra options out there, especially for those of us who are a little more well-endowed. Let's just say we give these two thumbs—or rather, two boobs—up.
And if you're asking whether or not you need a new sports bra— you do. Especially if you have been double-bagging (wearing two layered sports bras), it's time to find one good sports bra that is as strong as you are.
Want a pair of chic leggings or a tank top to pair with your new sports bra? We've rounded up all of our favorite style essentials to keep you looking your best at the gym and beyond.
This article was originally published on