This $11 Mascara Gives Me Thick Lashes And Makes Me Look Wide Awake (Even When I'm Not)
by Yelena Moroz Alpert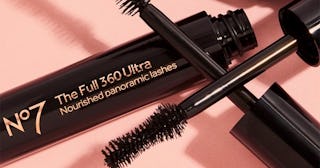 Instagram/No7
You know that adage, "Dress for the job you want, not the job you have"? Well, it applies to makeup too. That's why I have a small addiction to test driving mascaras with the promise of glamorous lashes—and the new No7 The Full 360 Ultra mascara is the darling of my makeup bag.
Last night I went to bed at 1:30 a.m. because working into the wee hours is the only time when I can think clearly without interruption every three minutes. Needless to say, I am tired and look it. Unlike my husband and sons, who have Bambi lashes (the unfairness of it all), I am stuck with wimpy little lashes that in no way help me look awake, even after I apply eye cream. If I don't swipe on mascara, I look positively washed out. Mascara is my magic wand to help me look decent, and not like someone who put her head into a dishwasher.
Here is why No7 The Full 360 Ultra might be even better than coffee. The hourglass brush applies mascara in one swoop, and if I make a point to start at the base of my lash line, it works like delicate eyeliner to transform my eyes from mousy to that Emily in Paris understated chic. Because the mascara doesn't clump, I use it on my lower lashes to make my peepers look more awake than I actually am.
Unlike some pricier mascaras of my past, this one dries quickly and won't leave lash skid marks (is that a thing?) after a couple of hours, guaranteeing that at least one thing in my life stays in place amid the chaos that is my day. No7 Ultra also gives me the longest lashes of all the mascaras stashed in my makeup drawer. And because it's only $11, I won't bat an eyelash replacing the tube every few months (as all experts recommend) instead of holding on to it for a year, breeding a little bacterial cesspool because I don't want to "waste" my money. Mommy's little (lash) helper, indeed.
This article was originally published on