Get Glowing With A Face Mask, No Matter Your Skin Type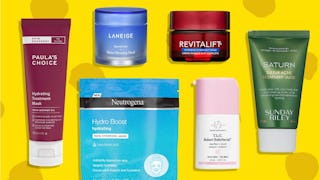 Whether your skincare game is intense enough to religiously follow a ten step routine every night or you sometimes just splash some water on your face to remove your make-up (when you remember), incorporating a face mask into the mix may seem like an easy way to get instant positive results. Just slap it on, wait a few minutes, and you're good to glow, right?
Not so fast, Mama. Like any other skincare product, a facial mask can contain a plethora of ingredients to treat a broad range of skincare issues. And depending on how your skin typically behaves — (Oily with acne? Dry as the Sahara?) you'll want to look for a mask that can help combat your specific problems. We've created a list of the best face masks for every skin type so you can pick and choose what's right for you.
BEST FOR DRY SKIN
Got skin that's parched as the desert? Drench it with the calming and soothing ingredients found in this hydrating mask for super dry skin. This creamy lotion includes rich antioxidants such as vitamins A, C & E, evening primrose, and fruit and seed oils to replenish skin, and can even calm redness from rosacea and eczema. Use it as a regular mask or keep it on overnight. Says one reviewer,
"Makes my skin feel like butter every time I use it. I use this once every 1-2 weeks, depending on how dry I get, and I have almost no flaking on my skin, when I used to flake quite often."
Many times, dry skin can be damaged skin. This repairing mask nourishes, calms and rejuvenates distressed-looking skin with proven ingredients like colloidal oatmeal and avena sativa oat bran. It also contains no fragrance, alcohol, or other irritating ingredients. Says one soothed customer,
"I have very dry and sensitive skin, not prone to acne, but I have eczema and am allergic to a myriad of chemicals both synthetic and natural. I bought this after a pretty bad sunburn on my face (despite my best efforts to stay in the shade), and it really helped moisturize and heal my skin!"
Love sheet masks? Who doesn't!? These contain purified hyaluronic acid to quench dry skin and help maintain skin's essential moisture. They're made of a unique 100% hydrogel material which holds up to 50% more essence than a standard paper face mask. That's a lot of moisture, Mama. Here's an application tip from one moist reviewer,
"I love these masks! I've perfected the application : I cut a bit half the eye flap off so I can lay it right up to my lower lid, and use the excess piece for the spot by my nose that's missed by the mask. I put the bottom one on first then overlap slightly with the top one, and it holds up pretty well with tension."
Drift off to sleep dreaming of dewy, moist skin after slathering this all over your face at night, because that's what you'll have when you wake up. This lightweight, gel-textured mask is enriched with powerful ceramides and beta-glucan to deeply hydrate your skin. Plus, it contains a blend of aromatic essences to relax your mind. Sounds dreamy. Says one well-rested reviewer,
"This is by far my favorite amazon skincare product I've purchased so far! I have EXTREMELY sensitive skin and pretty much anything will turn my face red or break me out unless it's a product my dermatologist gives me…I've only used it a few days and so far my skin already looks so much clearer and more moisturized!"
BEST FOR OILY SKIN
Need a detox? Actually, we're talking about your skin. Heavy products, lots of make-up, and even stress can cause toxins and congestion to build up under the skin surface. That could lead to acne and clogged pores. De-clog yourself with this mask that includes grape marc to detoxify, with pink clay and coffee to absorb blackhead-causing dirt and excess sebum. Says one clean-faced convert,
"I have really oily, sensitive skin and sometimes break out with acne. I use this mask at night and by morning, everything (bumps, pores, redness, etc) is reduced."
Wondering why you'd want to slather your face with the stuff your dad uses to grill hotdogs? Believe it or not, charcoal is a great cleansing ingredient for skincare, because when activated, it pulls chemicals, dirt and other micro-particles to the surface of your skin, which makes your pores appear smaller, too. It's like a tiny skin vacuum cleaner. Says one masked customer,
"This is honestly the only mask that's ever really been effective for me! It exfoliates without irritating and it sucks up dirt and oil without drying, plus it feels soooo good when it warms on your face and hands. Immediately after use, my face is glowing and smooth."
If acne is a THING for you, you'll want to study up on another effective ingredient that might surprise you — sulfur. It actually penetrate pores to dry and clear up existing acne while preventing new blemishes from forming. This mask contains 10% sulfur, which is no joke. It also includes 4% niacinamide, which boosts skin radiance. Says one glowing reviewer,
"This mask is unbelievable. I use it as a spot treatment over night and my pimples disappear in one or two days. I even use it on the ones that are about to appear so they never get to… I love it!"
Got acne AND sensitive skin? This clarifying mud mask contains Dead Sea minerals that gently purifies and cleans clogged pores. It detoxifies, but also calms with the inclusion of an herbal complex of aloe-vera, chamomile extract, vitamin A, sunflower seed and jojoba oil. Says one masked user,
"I'm not joking, I thought this was just going to be a normal face mask but I was wrong. The application was smooth and easy. After waiting 10 minutes, I took it off and….my face was smooth as a baby's butt cheek, no lie. This made my face so soft and feeling refreshed and hydrated!!!"
If you're looking for a mask that makes your face as Instagram worthy on as it is after you wash it off, look no further than this clay mask that actually bubbles and froths while it's sitting on your skin. Made with kaolin, charcoal powder, and collagen, it also contains carbonated water to bubble up before you wipe it down. Says one fizzy face,
"First? It's weird. Second. It's awesome. I use this every few days to keep the dead skin from building up on my face – even with washing, I get a lot of clogged pores and my skin is very dry to begin with. This smooths out my skin texture a bit and takes off a lot of the dead layers."
BEST FOR COMBINATION SKIN
This 100% calcium bentonite clay mask has a cult following due to its amazing ability to draw out impurities in the skin while keeping it smooth and clear. Experiment with how long you need to keep it on — if you're super sensitive, you might want to try 5 – 10 minutes to start. Says one obsessed user,
"My daughter and I have been using this for a few months now and we're very happy with the results. She's 18 and has hormonal cystic acne and combination skin. I'm 53 and have very dry, mature skin. This works wonderfully for both of us. She mixes it with apple cider vinegar and I use water…The slight redness I had was from increased circulation, NOT irritation, and was gone in minutes."
This targeted two-step rubber mask system keeps effective ingredients wrapped closely to the skin during use to prevent evaporation. This Hydration Lover version includes phyto keratin complex, a botanical protein, to provide moisture, plus green seaweed extract, which is rich in vitamin C and minerals and helps maintain the balance of skin for a more hydrated and supple look. Plus, they're good for sensitive skin. Says one balanced user,
"I use these weekly and they help calm my rosacea. I plan to keep buying these. When I take the mask off I take the remaining 'goo' from the package, mix it with my lotion and put it on my face and neck. It makes a huge difference. You can't beat the price either."
Can a creamy rich face mask pull out impurities and shrink the look of pores while increasing hydration to leave skin refreshed and glowing? You betcha. This mask uses salicylic acid to target acnes along with kaolin, a type of clay that cleanses and exfoliate dead skin cells and debris. Says one cleaner customer,
"Use this at least twice a week and watch those pores disappear! I had such a problem with the visible pores that I resented putting foundation and powder on my nose. Now my nose is so smooth looking and makeup is no problem!"
These fun sheet masks give new meaning to the phrase, "Feed Your Face." They're naturally extracted from pure juice, and delivery vivid nutritional elements kept fresh in the air pocket sheets. Each contains a superstar natural ingredient, known for its nourishing, hydrating, or firming capabilities. Says one reviewer,
"My friends shocked me for the first time in my life on commenting how bright and clean my skin looked. I'm hooked! These sheets fit (my face) perfectly, the odor is a light and natural scent which is pleasant and refreshing, and I love to put them in the fridge first as some other users recommended. It's honestly the best 15 minutes of my day, a nice relaxing mini-spa treatment for myself and my skin has never loved me more."
BEST FOR AGING SKIN
As your skin ages, it may lose the ability to renew itself as quickly and easily — which leads to dull, flaky skin. (#thanksmothernature) Exfoliating on a regular basis becomes that much more important, to slough off that outermost layer of dead skin. This product contains multiple types of powerful acids (alpha hydroxy and beta hydroxy) that work together to gently but efficiently exfoliate and reveal the skin of your dreams. Says one convert,
"This product is absolute magic. I use it 1x a week and leave it on for the recommended 20 minutes. I always wake up with baby soft, more even and clearer looking skin. I also use this as a spot treatment."
This anti-aging sheet mask is contains our old friend hyaluronic acid, skin-firming peptides and a brightening complex with Vitamin C and delivers a powerful concentration of age-defying actives to the skin in just 20 minutes. Bam. Says one masked reviewer,
"Love this mask! My face felt amazing after using this mask for the first time. Skin was smoother and firmer! I highly recommend it!"
This drugstore favorite is an anti-aging superhero. It immediately hydrates skin, while working to visibly reduce wrinkles, firm skin and brightens through the power of hyaluronic acid, pro-retinol and vitamin C. All at an amazing price. POW! Says one rescued reviewer,
"This is the best night cream!I have tried many different night creams, but none compare to this one. This is not heavy or greasy and leaves my skin very smooth and soft. Don't spend hundreds of dollars on other night creams-this one does it all! :)"
This article was originally published on