20+ Natural Cleaning Products For A Fresh Feel At Home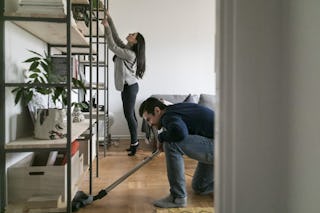 Maskot / Getty
There's a reason why parents are starting to look into the best natural cleaning products for their home. When we become moms, we start to question the safety of everything around us, from the air we breathe and the food we eat to the clothing we buy and the cleaning products we use. At least, I did. Pre-kids, most of us didn't think twice about that cheap bottle of all-purpose spray we picked up from the dollar store. Now, we scour through the ingredient list of pretty much every brand (and natural cleaning product) we buy from to make sure there are no harmful chemicals lurking inside that could pose even the slightest health risk to our little cherubs.
RELATED: 100+ Nature Jokes That Will Put A Tree-mendous Smile On Your Face
If you're one of the moms wondering if it's worth it to spend an extra couple bucks on green cleaning products, the answer is a resounding yes. "While sterilizing chemicals found in most cleaning products arguably do a good job at cleaning, the side effects are potentially far more dangerous than whatever it is they're trying to clean in the first place," explains Layla Samra, mom and founder of FizzWizz Crystal Clear Laboratories, LLC.
Thankfully, the last few years have seen more interest in sustainable cleaning without the side effects, which Samra believes is owed in part to the rise of social media and open access to information. "It's been a tremendous help in educating consumers about the dangers of everyday cleaning products and harsh cleaning ingredients," she says. "Clean is important, but so is our health and environment, so we need to pay more attention to what we're using and make more responsible choices."
RELATED: 8 Mom-Approved Organic Baby Detergents That Are Gentle Enough for the Entire Fam
Oh sh*t. It could be time to really kiss that dollar store Windex goodbye. When selecting cleaning brands that are truly safe for your family, you want to aim for all-natural, plant- and mineral-based ingredients. Samra recommends staying clear of parabens, SLS (Sodium Laureth Sulfate), and Chlorine. There are all-natural cleaning ingredients that actually work, including baking soda, hydrogen peroxide, and citric acid. In her FizzWizz Cleaning Tablets, Samra uses protease, an enzyme derived from mushrooms that serves as a powerful cleaning ingredient. "Look for labels that say all-natural, but don't stop there," she adds. "USDA-certified food ingredients and biobased products are also helpful in knowing the chemicals you're using are safe and not hiding behind a poorly regulated 'all-natural' claim."
Not quite sure where to begin shopping for all natural and organic cleaning products that fit the bill? Read on for a list of some of the most trusted, family-friendly natural cleaning products and brands on the market.
Best All Natural Cleaning Products & Brands
Best Natural All-Purpose Cleaner
Best Natural Bathroom Cleaning Products
Best Natural Floor Cleaners
Best Eco-Friendly Cleaning Products
Best All Natural Laundry & Dish Detergents