8 Of The Best Bras For Pumping— *Hands-Free* Function For Multi-Tasking Moms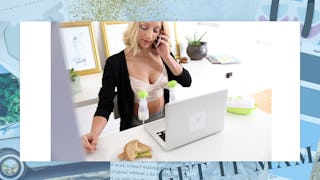 As mamas, and pregnant women, we read everything to be prepped and ready for when bb arrives. We do our homework like the best straight A student looking to ace this thing called #momlife. Fast forward nine months and our beautiful baby is here. Then we decide to nurse and suddenly the reality of mom-hood has come to kick our ass!
Did you know that you needed a hands-free pumping bra?
The answer is yes. Yes, you need one. Yes, you need it now. Basically, without one of these, you won't be able to do anything while nursing. Forget about making calls, checking emails, eating lunch (oh that was already forgotten…). A hands-free pump bra is exactly what it sounds like, a specialized bra that gives us multitasking freedom (life-changing!) when we're otherwise tethered.
The best hands-free nursing bras can be worn 24/7. They allow your flange to stay snug to your nipple, and have room to expand or contract as your breast size changes throughout the day. No idea what bra size you are anymore? Join the club! Nursing pumping bras can have different sizing across brands, so make sure to measure before committing. First, measure under the bust where the band would sit. Then, measure across the fullest part of the bust while full. Compare these measurements to brand size charts and voilà. When in doubt, round up! If they are basic sizes like s/m/l/xl, what size shirt would be able to button closed when your breasts are engorged? Again, round up, and don't feel bad, we're all feeling pretty huge about now.
One mama who took note of the need for hands-free nursing was Emily Ironi, founder of The Dairy Fairy. Emily, herself a nursing mom and all-around superhero to the rest of us, jokes that she "gave birth to two babies six months apart." After bringing home her beautiful baby girl, she noticed a serious hole in the market for pumping and nursing mothers. Within weeks, the idea for her second baby was born. Today, her Dairy Fairy brand offers pretty bras for real moms in 12 styles, multiple colors, and 7 different sizes.
Moral of the story— nursing/pumping moms need a hands-free bra. Don't make the mistake of trying to hold your flanges every two hours. Learn from our mistakes! Here are the best pumping and nursing bras that we would recommend in a heartbeat.
Best All-in-One Nursing Pumping Bras
Best Hands Free Bras for Larger Bust (DD+)
Best Hands Free Bras for Smaller Bust (A-DD)
Rebooting your wardrobe postpartum? Keep reading for more of our busy mom fashion finds.
This article was originally published on