BB Needs The Best Of Everything— And Dressing Them In Organics Is No Exception.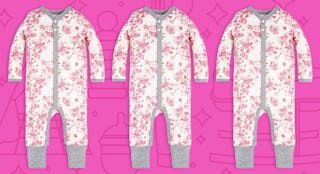 Your baby gourmand dines on locally grown veggie purees you spend hours meal prepping each week. You stocked her library with the best books to encourage infant development. You'd never skip her soothing nighttime routine (a bath and mini-massage with all-natural baby beauty products followed by a special lullaby). And she rides in the safest stroller you spent months researching.
Yep, it's very clear that only the BEST will do for your bb. So when it comes to all that cute clothing you spend hours laundering (with fragrance-free detergent, obvi) only the softest and safest option will suffice. Enter organic cotton baby clothes.
Whether you opt for a wardrobe that's exclusively organic or invest in a few key pieces that your L.O. will wear often (like PJs!), going organic has loads of benefits for your babe and beyond.
First and foremost, choosing organic cotton baby clothes means your kiddo will have less exposure to chemicals that are used to treat many textiles — which is particularly important for babies. "An infant's thin skin more easily absorbs substances," explains Samridhi Ganeriwalla, founder of organic clothing brand Little West Street, "and their bodies are less able to break down or eliminate toxins that enter the body." When you opt for organic cotton, you can be sure it's free of the toxins that can be extremely irritating to babies' sensitive skin (which is why organic cotton clothing is often recommended by pediatricians for newborns with eczema).
When you're looking at a label, keep an eye out for GOTS certification, which means it meets the gold standard set by the Global Organic Textile Standard – covering every aspect from the harvesting of the crops to the labor conditions of the workers. You'll also see lots of "Standard 100 by OEKO-TEK" certifications, too, which ensures the cotton is free from 100 harmful chemicals. "Both certifications are a great step in making fabrics less harmful," says Samridhi. "Just keep in mind that OEKO-TEK can apply to both organic and non-organic fabrics."
From booties and bibs to joggers and jammies, we've found the best organic baby clothes ideas that are sweet, soft and safe for your little one.
Now that you've got your kiddo's organic clothes covered, start shopping for the best bottle warmers and other baby gear.
This article was originally published on