Top Lady-Approved Lubes So Your Wet Dreams Can Be A Reality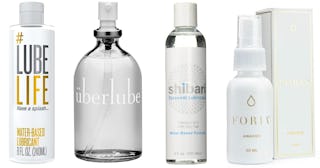 As the years go by, dry spells become the new norm. While it's important to stay hydrated, happy, well-rested, and peaceful in your sexuality to naturally lubricate, there are just some instances (or periods of your lifetime) where reaching for a lubricant in the bedroom (or bathroom ⁠— Hi, #momlife) can make all the difference.
RELATED: What's the Difference Between CBD and Hemp Oil?
Real Talk: Women go to extreme lengths to ensure that their vag feels fresh, especially after giving birth and riding along for what feels like countless rotations around the sun. Even after waxing, steaming, and supplementing with herbs, there comes a time when we just have to accept that it's okay for wetness during intercourse or masturbation to come shamelessly from a f*cking bottle.
It's okay for wetness during intercourse or masturbation to come shamelessly from a f*cking bottle.
Take note: Cheaply-made lubes for women can cause irritation and increase vaginal dryness in the long run. Some lubricants with extra color, scent, flavor, or temperature features might stunt your vag from naturally lubricating, due to the impact these lubes have on the body's natural pH system. If it's your first time delving into lubes (we wrote a comprehensive guide on how to use & apply lube), go for one of these lady-approved, natural- or water-based formulas that are designed to get things slippery while encouraging natural lubrication simultaneously.
RELATED: These Vibrating Panties Make It Possible To Get Off In The Most Discreet Way
Throw your pride to the dust and take these best lubricants for women to heart. One little bottle of perfect personal lube can transform your self-love sessions and revamp your entire married or partnered-up sex life. Read on for our favorites:
717 GLOWING REVIEWS: "Holy crap. This stuff is magic. No sheet stains. No weird residue. The container is discreet." -Merideth Mo, Amazon
This luxe lube will help bring you to a place in the bedroom that's far-removed from your everyday life. It will leave your skin feeling soft and nourished, instead of slick, sticky, or wet. While it's not recommended for oral, there's a myth that the owner of the company drank a shot of the lubricant formula to prove its purity. L-O-L
"It's a CBD-laced personal lubricant that is helpful in getting your engine revving that much faster." -Playboy
CBD-infused sex products are changing the game. In addition to improving the feel and vibe of your V, this lube contains CBD which by definition is known to relax and relieve pain. In addition to CBD, this oil contains nine plant-based aphrodisiacs and nothing else. So yeah, you're welcome.
1,668 GLOWING REVIEWS: "This stuff works great. Super slick. Clean up is a breeze and it has caused no irritation on either of us." – AZ, Amazon
If it has a hashtag, it's cool, right? This #LubeLife water-based lubricant for women will add a splash of sexiness to your next partner or independent play session. Did we mention lubes don't have to just be used for the vag? Use this lube for regular massages, to show off, or for anal penetration.
168 GLOWING REVIEWS: "I love this stuff! No scary, unpronounceable ingredients, great, but not an overpowering smell, superb feel." – Elwood P. Dowd, Amazon
Consider "Woo!" your new go-to word in the boudoir. Made with a creamy, yet natural coconut-oil base, this lube will harden up in cooler temps. Use your hands to warm up the formula prior to application for a melty, even application.
5,592 GLOWING REVIEWS: "We've been using this for about a year which means a few things: We like it, and either it lasts a long time or my husband is right and we don't have sex enough." – Sam, Amazon
This crowd-favorite lubricant will bring on the soft, silky feel you've been longing for between the sheets. Oh, and if you get any of this on your actual sheets you don't have to worry. The only thing this lube stains is your partner's brain… with hot visions of intimate moments with you.
This article was originally published on