You Don't Want To Miss These Presidents' Day and Valentine's Day Weekend Sales
by Megan McCarty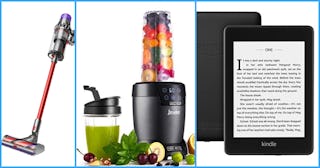 Dyson/Amazon
President's Day and Valentine's Day combine to make for some awesome sales. Sales, sales, sales! Is there anything we love more than sales? Okay, okay, maybe our kids…most days. Here we've rounded up 20 of the best deals happening right now, from Everlane to Target to REI and in every category imaginable (fashion, furniture and home goods, baby gear, beauty, and more). Hurry! Some sizes and styles are selling quick. No wonder, since some of them are up to 70% off.
Now's the time to stock up on winter goods on major sale – because, for some of us, winter is far from over – such as a puffer jacket and UGG slippers. While you're shopping, think ahead to what you and your family may need for future seasons. White wine glasses for summer patio nights? New spring booties? Or maybe you want to treat yourself to a Valentine's Day bouquet. We gotcha covered.
Scroll on and shop on!
The Best Sales This Weekend:
The Best President's & Valentine's Day at Black-Owned Businesses:
Just Some More Weekend Deals We Want You To Know About:
1. Save $100 on Dyson vacuums on Dyson's site.
2. Up to 70% off selected goods at ASOS with code OUTLETYAY.
3. 31% off the Jusseion Blender on Amazon.
4. Extra 50% off all sale items at Anthropologie.
5. 55% off JoyJolt White Wine Glasses on Amazon.
6. Save up to 60% off at Maisonette.
7. 25% off the Kindle Paperweight (32G)
8. 22% off UGG Slippers at Nordstrom.
9. 57% off this puffer jacket at Free People.
10. 23% off this Zinus Modern Studio Collection TV Media Stand on Amazon.
11. Up to 65% off the OV Extra Sale at Outdoor Voices.
12. 31% off this pan organizer rack on Amazon.
13. 35% off these wool house shoes from Huckberry.
14. 43% off 12 oz. glass coffee mugs on Amazon.
15. 30% off Punch of Color Bouquets from Teleflora.
16. 20% off sitewide and a $250 Free Gift Set at Bear Mattress.
17. Up to 50% off Winter Clearance at REI.
18. Nearly 50% off Lightweight Patterned Face Masks from Uncommon Goods.
19. Up to 60% off at Everlane.
20. Up to 70% off select items at Bloomingdale's.
21. Nearly 60% off designer goods at Idun.