These Are The Perfect Desks For Homeschooling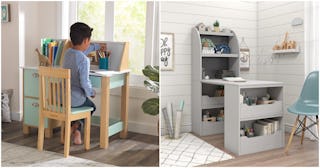 Amazon/Wayfair
Carve out the perfect learning space for your student with a kids study desk. Whether your kiddos are learning to read at homeschool or need a special homework spot, your pupil needs a place that is all their own. On top of that, you need a designated area for their computer, art projects, and all those school supplies. So for everyone's benefit, we've tracked down the best desks for your kids' bedroom, budget-friendly student desk and chair sets, as well as the best homeschool desks for remote learning.
With the picks below, you can create the ultimate classroom feel right at home. We've found the perfect tables for preschoolers and younger kiddos as well as vintage schoolhouse desks that every parent remembers sticking gum under. Of course, even if you are not homeschooling, finding a great student desk and chair set will entice your little one to sit down and get sh*t done! So go ahead and invest in any of these best student desks that are comfortable, motivating, and could even grow with them through the years.
Now, you can keep your sanity along with all their crap in one specific spot.
Best Student Desk And Chair Sets
Best Student Desks For The Bedroom
Best Kids Corner Desks
Best Homeschool Desks
Now your little scholar is all set up with the best student desks it's time to focus on all the other stuff your kiddo needs. Good think we've got all the best kids stuff right here!