11 Kid- And Reef-Safe Sunscreens For Less Complaining & More Fun In The Sun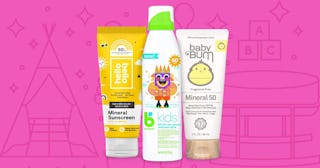 The best kids sunscreens aren't just safe for your baby (or toddler, or tween) — they're also safe for the environment! Not-so-fun fact: Some common ingredients in sunscreen can actually damage coral reefs as they wash off into the ocean. And if they're capable of that, would you really want to smear it on your kiddo's sensitive skin? It's all connected, and we know you care about your little one and the world they're living in, so it's important to use products that are safe for both. Needless to say, a kid- and reef-safe sunscreen is an essential item for a fun day at the beach (or at the inflatable pool, at the amusement park … you get the drift).
The second hurdle, of course, is getting your kid to wear the sunscreen you so thoughtfully chose to keep them safe from burns and long-term effects like skin cancer. That's why a formula that's easy to apply is ideal, whether that be a lotion, sunscreen spray, or sunscreen stick. And for especially squirmy kids, try getting one that provides broad spectrum protection and is water-resistant for 80 minutes instead of the typical 40 minutes to avoid some re-applications.
In the name of safe fun in the sun, we're here to answer some of your burning questions and share our favorite mineral sunscreens. Also, do yourself a favor and get the kids to wear a rash guard — that's half of the battle.
What ingredients for sunscreen are bad for reefs?
Sunscreen can be harmful to our ocean's disappearing coral reefs – and it's cool to help out our coral reefs and teach our kids to do the same. Two of the most common ingredients that are harmful to reefs are oxybenzone and octinoxate, so to start, check labels for those culprits. We have to wonder, if those products are so bad for reefs, how can they be good for our LO?
How do you choose the best sunscreen for kids' sensitive skin?
We chatted with Doris Day, MD, board-certified dermatologist, and author of Beyond Beautiful. Day says, "most of the allergens and irritants people are worried about in sunscreens are from added ingredients to make the product smell or look better or from the preservative, not usually from the sunscreen ingredient itself." Day points out, "the best sunscreen for kids uses physical protection from age six months and onward. When your child is ready for sunscreen, choose formulas that contain zinc oxide and titanium dioxide, which are often pasty and thick." For especially sensitive skin, you'll also want to opt for formulas that are free of fragrances, parabens, pthalates, and ideally, tear-free, too.
We took Day's advice, hunted through reviews, and turned to recommendations from parents to come up with a list of top sunscreens that are good for kids' sensitive skin and the environment. From Hello Bello, to Blue Lizard, to Baby Bum (you know, the monkey sunscreen bottle), these sunscreens will keep your family and the coral reefs safe. So grab your lotions, sunscreen sticks, and spray sunscreens, and get ready to catch some rays.
Best Sunscreens For Kids & Babies
Best Spray Sunscreens For Kids
Best Kids Sunscreen For Faces
This article was originally published on