These 10 Telescopes Will Get Your Kid So, So Excited About Space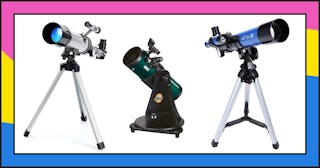 Summer is officially here which means you can grab a telescope and turn an evening with the kiddos into a stargazing expedition, complete with an exploration of the mystical, magical universe. Amazon and Target are selling high-quality gadgets that will give you and your kids a front row seat to the whole galaxy from super affordable options to pricier models. But, bonding with the kids over nature and outer space? Priceless. Our favorite telescopes feature a totally easy setup and a crystal clear view of the moon.
Bringing home the best telescope is the perfect way to get your kids super psyched about astronomy. Also, don't worry – there are plenty of easy resources that break down how exactly to use a telescope properly so you don't have to wing it (thanks Stargazing for Dummies). Watch out world, you and your kids are about to basically become professional astronomers. Check out our top picks!
SUPER PORTABLE AND ADJUSTABLE
Get a crystal clear view of the night sky with this high-magnification, portable telescope. The best part? It's really, really easy to use. There's an adjustable aluminum tripod, a carry bag, and interchangeable eyepieces so you can vary the magnification.
ON-THE-GO TELESCOPE
Looking for a more compact gadget that will give your kids a super awesome view of the stars and moon? Go with this on-the-go telescope. It comes with a 4.5 inch aperture that offers a super detailed view of the night sky and has a sturdy tabletop base that will prevent it from toppling over. Plus, you can tuck it away in the closet which means *drum roll please* way less clutter.
ULTIMATE MOON TELESCOPE
Want a really, really clear shot of the moon? Go with this bad boy. It comes with a moon mirror, which removes all the glare so you and the fam can get the perfect view. There's also a 40mm aperture and maps of stars included, which means you don't have to pretend you have any idea what's going on up there.
LEGIT TELESCOPE FOR BEGINNERS
This is the perfect quality telescope for astronomy beginners. It's super easy to set up, comes with a pre-assembled tripod, and includes coated glass optics which makes for super clear images. Your kids will have zero complaints when they get a front row look at all those celestial bodies (and you'll think it's pretty cool, too).
AFFORDABLE STARGAZING
Excited about introducing your kid to astronomy but don't feel like plunking down a bunch of money for an expensive telescope? Go with this affordable option that still offers crazy, cool views. It comes with two eyepieces, one of which will give you a prime view of the moon's surface. Clear your family's schedule – this is about to be everyone's favorite nighttime activity on a very reasonable budget.
LIGHTWEIGHT AND ADAPTABLE
This telescope comes with a smartphone adapter so you can take pictures and videos of all the stars, planets, and universe phenomena. Plus, it's designed to be super lightweight and there's even a custom backpack so you can easily carry the telescope around with minimal groaning.
POWERFUL SKY VIEWS
This telescope is designed for kids ages eight and up. It comes with a whole ton of magnifying lens (35x, 50x, 60x, 90x, 100x, 150x, 180x, and 300x) and a 1.5x image erector. Also, the telescope features all-glass optics so you'll get a super crisp, clear view of the sky.
ULTIMATE STARGAZING EXPERIENCE
This telescope is designed for both beginners and experts in stargazing. It also puts in the work. There's a database of 40,000+ celestial objects and the gadget will automatically track those objects for you. Looking at a bunch of cool planetary stuff, all while doing minimal to no work? Um, yes please.
Read More:
7 Actually Tasty Prenatal Vitamins That Are Not Horse Pills
These 'Toy Story' Toys Will Take Your Kid's Imagination To Infinity And Beyond
These Sunscreens For Kids Are Reef-Safe And Smell So Good
Our mom experts only recommend picks they really love. We may earn a commission on purchases made through links from our site, but if we love it, we know you'll love it. And we Scary Mommies gotta stick together.
This article was originally published on