These Are The Best Christmas Gifts For Toddlers Who Already Have Everything
by Zlata Faerman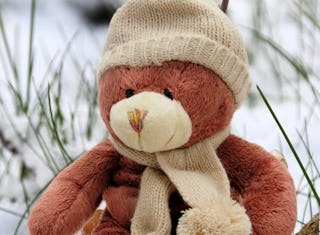 Pexels
Finding the best Christmas gift for a toddler is as simple as determining which bronzer won't make you look like you spent too much time in the Bahamas sans SPF. Every tot is unique and has different interests, so not all toys or gifts will keep a little one occupied in the same way… or for the same amount of time. (And let's face it, that's what we're really looking for here.)
As moms, we want to ensure that when our toddlers are playing with a toy, it is beneficial to the stimulation and growth of their little minds and motor skills. I mean, what else is going to mold them into perfect little children while we just sit in a corner and scroll Instagram? (I kid.)
A simple search of "best toddler toys" in Amazon yields over 60,000 results [insert open mouth surprised emoji here], and while I didn't go through all of them, the ones I'm suggesting to you are (for real) awesome. So, check out our list of the best toddler Christmas gift ideas of 2019 and take home a toy your favorite tot will treasure.
Let's get into it:
MAGNETIC BUILDING SET TO BUILD CREATIVITY
Imaginary play is king for the little young minds of our offspring. These 3D buildings sets give them the opportunity to develop creative and tactical skills. Since all the pieces are magnetic, there's virtually no limit to what our toddlers can create. Beware of knock-offs, because this brand is the OG. You don't want your Gucci to really be a Cucci, you feel me? This set is sweet and super affordable, but you can also splurge for a bigger set with thousands of rave reviews.
PORTABLE BUBBLE MACHINE FOR HOUR(S) OF PLAY
There are bubble machines, and then there's a Gazillion Bubble machine. This is one of my favorite brands because they know what they're good at (bubble machines, duh) and make a variety of them to suit the discerning consumer (our kids). Pour yourself a beverage, turn on this bad boy, and watch your child be entertained like a pig in organic, Grade A sh*t.
A TODDLER TOY LIST WITHOUT LEGOS? BLASPHEMY!
Guys, I obviously have to include LEGOS on this list. I'm not looking for a comment-ambush on this post, and excluding LEGOS would be sacrilege. Plus, they're f*cking money. LEGO DUPLO is built for a toddler's smaller hands, with the bricks being twice the size of a classic LEGO piece. (You know, the classic LEGO piece that imprints on the bottom of your foot when you step on it? Yeah, those.) LEGO DUPLO is an awesome intro to building and developing motor skills. There are a ton of different kinds, from animal puzzles and Disney characters to planes, trains, and automobiles.
ALL-IN-ONE LEARNING KIT
For a cool $25, you get a little bit of everything to keep your toddler learning while being entertained. Good for kids as young as 18 months old, Teach My Toddler contains unique ways to teach the alphabet, numbers, shapes, and colors. We know how short a toddler's attention span is, which is why I love the variety of puzzles, books, flashcards, and more.
CHUGGA CHUGGA CHOO, RED GREEN PURPLE BLUE
Three cheers for toys that double — even triple — for different games, activities, and learning tools. This colorful train teaches toddlers about color and number recognition, as well as counting and building. Amazon moms rave about the amount of time their kids have spent playing with it, without getting bored and moving onto the next thing. (Again, it's all about that Instagram scroll time for the moms, no?)
ECO-FRIENDLY, FAMILY-OWNED TOY BRAND TO LOVE
Not that I'm a crunchy type of mom, but I definitely err on the healthier side of things when it comes to what comes through my door. Hape is an awesome toy brand that creates mostly wooden (bamboo) toys and considers the environment in all aspects of production. Sounds are essential for development and this musical bench combines the fun of tapping colored balls through a hole with the ding-a-ling of a xylophone. America's Got Talent, here we come!
MESS-FREE CREATIVITY IN SIX FUN VARIETIES
These activity pads are the lifesavers your mom-bag didn't know it needed. It comes with a pen that, when filled with water, turns into a color as soon as it hits the paper. Once the water dries, the color disappears, and you can reuse to your (toddler's) heart's content. Practice numbers, letters, and color pictures. There's zero mess and 100% creativity.
BECAUSE EXERCISE CAN HAPPEN AT HOME
We all know that physical activity is a big part of child development. [Read: We all know that physical activity is a really great way to wear out your child so that they'll pass out quickly and sleep soundly.] That's why I'm loving on this indoor trampoline. There are just so many pros. First: You don't have to be outside in the heat if you don't want to be. Second: It's portable, so if you want to put it outside, go for it. Third: You're not spending a sh*t ton of money on a huge trampoline to put into your backyard. (Do you even have the room?) Fourth: Your homeowner taxes increase. That's a real thing. Look it up. Honestly, I'd buy an adult-sized one for myself and stand alongside my kid jumping up and down while enjoying a good ol' episode of Daniel Tiger's Neighborhood.
TURN SCREEN TIME INTO READING TIME
Call me crazy, but my almost-four-year-old has had very minimal screen time in his life. We only recently started Sunday morning TV time, and he's never played on or watched a movie from an iPad or iPhone. I really prefer he learn through play and through books, though now that he's older, I realize the importance of some educational programming. I digress. Through all of this "no screen time" rule, I utilized Farfaria for books on the go. It's an app that features one of a kind illustrated books for every reading level. There are a ton of stories on there with new ones added all the time — it's definitely a must-have!
Related: The Ultimate Holiday Gift Guide
This article was originally published on