10 Best Trick-Or-Treat Bags For The Most Monstrous Candy Stash
by Julia Guerra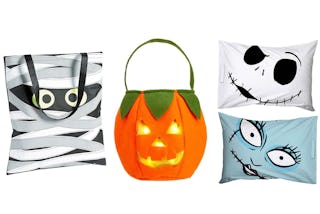 So your kid picked out their Halloween costume months ago, and you've already started hoarding bags of candy in bulk for the big day? You're ahead of the game, Mom, but have you thought about the best trick-or-treat bag your creepy kid can use to collect candy? Kids don't just settle for pillow cases and plastic buckets these days. They want bags that can hold candy by the pound, in the same way you want a purse sturdy enough to hold all of your crap. Suddenly, trick-or-treat bags are an investment piece and luckily our favorites are fairly cheap. Even though this Halloween will look pretty different (no huge groups, no big parties, face masks integrated with costumes, etc.), it seems like social distance-friendly trick-or-treating is still going to be a thing. Be prepared with some good trick-or-treat bags.
Below, we've rounded up 10 trick-or-treat bags that deliver the best bang for your buck. Some are reusable, some are wearable, and others can pose as grocery bags before and after October 31. Take a browse, and take your pick.
Looking for more Halloween inspo, tips, and ideas? Check out our Halloween section!
This article was originally published on