All The Best Labor Day 2021 Deals In One Place
by Karen Tietjen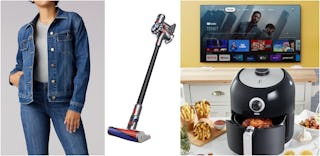 Lee/Dyson/Best Buy/Wayfair
Many aspects of 2021 have been pretty unpredictable and, well, disappointing, to say the least. But there's one event that we can all count on to close out what will be an unforgettable summer the right way: epic Labor Day deals far and wide. Tons of Labor Day deals in 2021 will be online, which is great for most of us who prefer to shop from the comfort of our couch. And you can pretty much score a discount on anything; we're talking mattresses, furniture, clothing, and, of course, baby gear galore. So if you've been waiting until the end of summer to splurge on upgrades to your home, wardrobe, or nursery, now is the time.
Whether you're doing a seasonal refresh on your home decor or packing up your bags to head south for the winter, you can rake up the fall savings in this roundup of Labor Day Sales! (See what we did there?) Oh, and BTW: Many of these sales are sitewide — get all the details below!
Editor's note: We'll be updating deals as we receive them from now until Labor Day weekend!
Labor Day Home & Kitchen Sales
Labor Day Mattress Sales
Labor Day Tech Deals
Labor Day Beauty Sales
Labor Day Clothing & Accessory Sales
Labor Day Shoe Sales
Labor Day Maternity, Baby, & Kids Sales
Labor Day Pet Sales