Cyber Weekend's Best Tech Sales: Computers, TVs, Smartphones, and More for 2019
by Phuong Ireland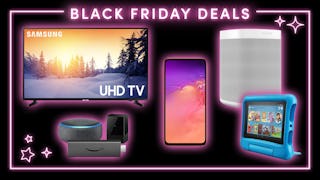 Like you, this story will get better with age. Keep checking back through Black Friday as we add even more great deals.
Attention, tech-y mamas! (And non-tech mamas!) You can't miss the best Black Friday 2019 tech deals on gadgets and gizmos. From brand new Apple MacBook computers to drones, smartphones, bluetooth speakers, and tablets for the screen-obsessed, the tech products available on mark down are all exciting.
Since we know you're busy, we got started on the tech shopping-list for you. We scoured the best Black Friday deals from your favorite and most-convenient-to-shop retailers so that you can click, add to cart, and repeat — until your tech shopping for holiday is done. And there ain't nobody who doesn't like tech- partner, kids, mom, even grandma!
30% OFF (was $999)
35% OFF (was $328)
20% OFF (was $249)
47% OFF (was $280)
40% OFF (was $100)
41% OFF (was $135)
60% OFF (was $100)
15% OFF (was $199)
5% OFF (was $500)
33% OFF (was $300)
50% OFF (was $40)
44% OFF (was $798)
44% OFF (was $799)
27% OFF (was $750)
57% OFF (was $210)
50% OFF (was $40)
63% OFF (was $55)
And, that's a tech wrap! Once your new products ship, you'll be able to trick out your home (and wow your kids) with bluetooth speakers, smart TVs, drones, entertainment system soundbars — and more.
Want more Black Friday deals? Check out all our Black Friday guides and score top deals before they're gone. If you love a good Black Friday deal, then you'll also love our other holiday gift guides.