Even The Busiest Moms Can Keep Up With Her To-Red List With This Handy App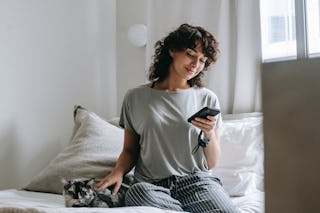 Pexels
When was the last time you were able to read a book? No, we don't mean reading aloud to the kiddos, we mean getting some peace and quiet while relaxing and reading a book for adults. Moms in today's crazy world don't get much downtime. Fortunately, if you still want to be well-read, there is an app for that.
Blinkist gives you the key points from top non-fiction books and podcasts—condensed into 15-minute audio and text explainers that are perfect for busy moms' schedules—so you can stay knowledgeable without dedicating hours to a book. You can read or listen right from your iPhone, iPad or browser anytime with Blinkist, and right now, a two-year subscription is available for just a few weeks at the low price of $99.99, making it less than $5 a month.
With Blinkist, you'll get access to over 4,500 books, with 70 new titles added every month to make sure you never run out of non-fiction topics to devour. And, depending on your day, you can choose to either listen to the key points via the handy 15 minute Shortcasts that are produced with the original creators, or read with the high-quality text summaries, called Blinks.
It's easy to personalize your very own Blink library. You can save the titles you love so that you can revisit them whenever you'd like, highlight your favorite passages, and even download the Blinks or Shortcasts so you can enjoy them offline anytime, anywhere. There are currently 27 categories of content, ranging from parenting to personal development to psychology to sex and relationships and many more, so anything you'd like to learn more about is likely available for you in a condensed Blinkist form.
Over 18 million people are already loving and learning from Blinkist. It's received an impressive 4.8 out of 5 stars over 70,000 reviews on the App Store, and the Google Play Store has amassed 62,000 reviews that rank it 4.5 out of 5 stars.
Right now you can get a two-year subscription to Blinkist for just $99.99 (reg. $383). It's a limited-time offer that's available now for only a few weeks, so make sure you take advantage and start learning ASAP!
Prices subject to change.
This article was originally published on