This Blow Dryer For Super Thick Hair Is 67% Off Today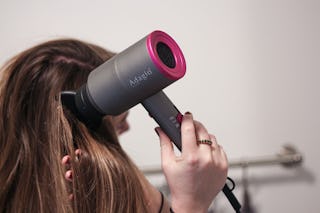 StackCommerce
It's easy to keep the same old hair tools for years, but the truth is, that if you do, you're probably missing out. And, while the recent headlines about uncontrollable hair syndrome may have you questioning if you're its latest victim, the syndrome usually resolves by age three, and it's probably just time you upgraded your hair tools for some modern technology like this Adagio Accelerator 2000 Blow Dryer that's 67 percent off today.
The exclusively five-star rated product is praised by actual customers for drying coarse hair, thick hair, full hair, and curly hair. One reviewer compares it to its $600 competitor and sees no need to swap the Adagio for the more expensive model.
The magic of the Adagio starts with the 1400-watt fast-drying technology. It quickly dries hair while simultaneously protecting it from heat damage. Swap between two speed settings and three heat settings for the perfect styling control for whatever look you're going for.
There's no need to buy any accessories with the Adagio either, it comes with two flat nozzles and a diffuser for the perfect, natural, frizz-free hair. They're all easy to maneuver in a lightweight and ergonomic design that'll have you tossing it around like Jonathan Van Ness.
The Adagio truly is designed for even the most coarse hair. One five-star review noted that even coarse hair that "holds water like the Hoover Dam" can be saved by the Adagio, which cut their typical 20-minute drying time significantly
Style hair better and faster with the ergonomic Adagio and for a limited time – and it's economic too! Score your Adagio Accelerator 200 Blow Dryer at a 67 percent discount. The typically $199 must-have is on sale for $64.99 while supplies last.
Prices subject to change.
This article was originally published on