This Bracelet Helps You Remember That Moms Are Superheroes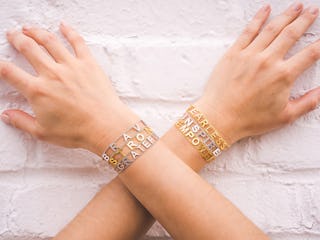 StackCommerce
Navigating a global pandemic is not easy, and moms everywhere have been through a lot this year. Whether you welcomed your first child in 2020 or just successfully kept your family afloat, there's one thing all mamas have in common: they are strong. And with Mother's Day quickly approaching, we definitely deserve something special to commemorate this crazy time.
If you're still deciding what presents to start dropping hints to your partner about, the Empowered Bracelet by Maya J is a perfect option. It's a gorgeous piece of jewelry with yellow gold plating that says the word "Strong" across your wrist, which makes it absolutely perfect for today's moms. It was listed as one of Oprah's Favorite Things, and if it's good enough for the one-and-only Oprah, it's good enough for us! This beautiful and meaningful bracelet is currently on sale for 34% off, making it just $24.99 for a limited time.
We could all use a reminder of how powerful we are these days, especially as we run our busy households and don't take enough time for ourselves. With the Empowered Bracelet by Maya J on our wrist, we'll have a constant reminder of how tough we are… even as we clean up the tenth potty training accident of the day or start that fourth load of laundry.
Made with an adjustable fit with a 6″ to 8″ extender, the Maya J Empowered Bracelet is an elegant piece of jewelry that comes on and off easily with a lobster claw. The lettering spelling out "Strong" is in a 1/4″ x 1/4″ letter size, making it easy to read and ideal to stack with multiple bracelets. And, every time you catch a glimpse of your wrist, it's sure to put a smile on your face as you embrace your inner strength. One happy customer raved, "I really love this bracelet! Just as shown, nice quality, and with the included pouch, I can safely store it."
Suggest the Empowered Bracelet by Maya J as a present idea or treat yourself! It's available right now for a limited time for just $24.99.
Prices subject to change.
This article was originally published on