Learn About Your Cat's Breed And More With A Basepaws DNA Test
by Scary Mommy Team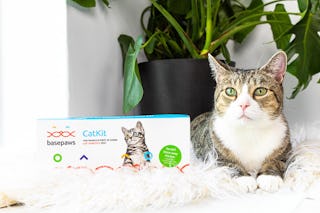 StackCommerce
Cats can be pretty discrete. They don't typically need tons of attention, they take themselves to the bathroom, and keep quiet most of the time. If that also sounds like a teenager, you're not far off. A lot like teenagers, cats also won't tell you a lot about themselves (even if it's the result of a species language barrier rather than angst). Get all the information about your cat's health and genetics with the Basepaws Breed and Health At-Home DNA Test.
The Basepaws at-home kit has earned tons of positive reviews on Amazon, landing it a 4.6-star rating. The simple kit takes a painless oral DNA swap that gets mailed to the lab. From there, you'll be informed of your cat's breed group, chromosome map, wild cat index, and genetic markers associated with 17 diseases.
Becoming informed about your feline's genetic history could help you prevent future illnesses, or take special care to ensure comfort for your pal. The included wild cat index could even give you insight as to how similar your cat's genome is to a big cat family (that one's for you, Tiger King fans).
WIRED, Glamour, Buzzfeed, Ellen, Fortune, and even Shark Tank have taken note of the Basepaws Breed and Health DNA test kit. One reviewer wrote, "Smooth process and quick turnaround time… The breed and health marker reports give me peace of mind knowing my cat is not at risk for any major health diseases."
Learn more about your cat and learn how to support their unique needs with the special care and nutrition you can give them after taking a Basepaws Breed and Health Home DNA Test. They're typically worth the peace of mind at $149, but you can save 12% when you buy one today at $129.99.
Prices subject to change.
This article was originally published on