This Hoodie Has A Pouch For Your Cat (Or Small Dog) & We're All About It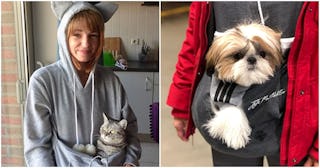 Amazon
Are you obsessed with your cat? Can't go anywhere without that crazy furball? Do you also happen to get chilly easily? Well, have we found the solution for YOU! **Infomercial voice** Introducing the Jomango Pet Carrier Sweatshirt, which has a cozy kangaroo-like pouch designed for toting around your FFF — favorite feline friend!
But seriously, pet lovers: If you love keeping your kitty close by, this sweatshirt has a shocking number of positive reviews — over 1,300 with an average 4.3-star rating, to be specific. That means, despite the obviously Photoshopped product images of pets poking out of the front pocket, real people use this with their real pets — and they love it.
BUT WAIT, THERE'S MORE! Do you have a small pup that loves to cuddle? The Pet Carrier Sweatshirt is great for dogs (and other pocket-sized critters who can stay still for long periods of time), too!
Let's not forget, this hoodie is also designed for your comfort, too. The material is lightweight so you won't get too hot schlepping around your furry furnace (some reviewers note that it's thinner than your typical sweatshirt). The sleeves feature thumb holes and embroidered paw detailing, and the hood has ears so you can even look like your four-legged friend. There are extra pockets for carrying your phone or your pal's accessories around and the drawstrings on the hood have fuzzy pom poms that your cat will inevitably swat at. And not only is it machine-washable, the pet pocket lining can be removed for separate washing at any time. We can't help but wonder: What will they think of next?
Don't just take our word for it, though. Check out what these *real-live* reviewers have to say:
"THE BEST PURCHASE I HAVE EVER MADE!!!" raves one Amazon customer who uses it to carry around her bunny (her bunny!). "Inside of the pocket is soft and fuzzy while still being stiff to help support your pet … there are two huge pockets inside the pet pocket with zippers for treats and toys, etc. There's a drawstring to support your pet a little more if you are moving about the house. I didn't know bunny snuggles could get any better but this is seriously the greatest thing ever. Every small pet owner NEEDS THIS!!!"
Another wearer calls it "surprisingly useful." She explains, "This is adorable. I bought it thinking it would just be a conversation piece but I really like wearing it. I foster for animal rescue. Small frightened dogs and cats take comfort in constant contact and feel safe inside the pocket."
Now if that doesn't tug at your heartstrings, we have to wonder whether you even have a pulse.
The Pet Carrier Sweatshirt comes in a handful of colors and varies in price between $23 and $33 depending on the style and size, although it's easily worth double that if you ask us. We're confident (or confidently hopeful?) that it will soon rise to this-started-as-a-joke-but-now-I-love-it fame, similar to the wearable blanket phenomenon that all began with the Snuggie.
Struggling with ideas on what to get the pet lover in your life for the next gift-giving occasion? Problem. Solved.
This article was originally published on