These Phones For Seniors Will Keep Your Loved Ones Connected — Not Confused
by Alesandra Dubin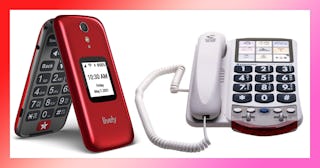 best senior phones
The best cell phones for seniors are the ones they actually know how to use — comfortably and confidently. Of course, older adults need their phones to communicate with loved ones as well as to have them ready for any emergencies. But that doesn't mean phones for seniors have to be utterly feature-starved gadgets. After all, staying connected is about more than just talking! Smartphones with extra features can help seniors share and receive photos and videos. Video calls are especially useful for video chatting with the grandkids, and they make it possible to share socially-distanced special moments, like the news of a positive pregnancy test. In a practical sense, getting a unit with large buttons and an easy-to-read screen is important, and some phones for elderly users have hearing aid compatibility to assist with hearing impairments. Most importantly, safety is a priority, so look for a cell phone that has a long battery life and an accessible emergency button. Overall, the best phones for seniors have these features and make them easy to use, so the entire experience is streamlined and fuss-free.
And don't forget that while you may have abandoned your landline long ago, many people — and especially seniors — wouldn't dream of living without one. So if you're shopping for phones for elderly loved ones, keep in mind that there are landline phones with modern features, too.
When it comes to staying virtually connected with grandparents and older friends, a phone with easy-to-use features is key. Not sure where to start? Consult our guide for the best phones for older adults. From the Jitterbug Smart2 to the VTech landline with options galore, any one of these high-quality picks would make a great choice for an elderly loved one.
Best Cell Phones For Seniors
Best Flip Phones For Seniors
Best Landline Phones For Seniors
This article was originally published on