Biden's Dogs, Champ And Major, Are Featured In A New Kid's Book
by Kristine Cannon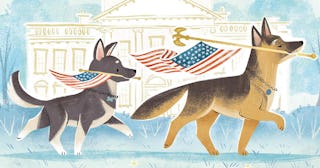 Dial Books
The children's book follows the "first dogs" as they live with their parents in the White House
From "indogurations" to publications.
President Joe Biden's German Shepherds, Champ and Major, are featured in a brand-new kids' book appropriately titled Champ and Major: First Dogs. The concept is cute, too: Champ, who joined the Biden family in 2008, shows 3-year-old Major around the White House.
Written by Joy McCullough and illustrated by Sheyda Abvabi Best, Champ and Major was released Tuesday. The book follows the "first dogs" as they live with their 'rents in their new home.
"Champ and Major's dad, Joe Biden, just got a really important job: He's going to be the new president of the United States!" the book descriptions begins. "Champ is excited to go back to the White House — he got to visit it when his dad was the vice president, before the family adopted Major, and he knows about all the important work that happens there. Major is going to be one of the first rescue dogs to live in the White House, and Champ can't wait to show his little brother around. Soon, Champ and Major will be in their new home, and they're going to bring a lot of fun with them!"
According to the author, the book not only tells a fun story about the two presidential pups; the 24-page book also emphasizes the importance of rescuing animals.
"Rescue animals give us the chance to exercise compassion and welcome creatures in need of safe, loving homes," McCullough tells People. "What better place to demonstrate these values for young readers than the president's home?"
Inside, the book includes information about — and helpful tips regarding — adopting shelter pets.
"Make sure you're a good fit: Many shelters offer the option to foster a dog first, as the Bidens did with Major," McCullough writes. "Then, if the dog turns out to be a good match for your family, you can adopt. If not, the shelter can find a new home for the dog!"
Even Vice President Kamala Harris makes an appearance in the new children's book.
"My social media feed has been full of delighted posts about dogs soon returning to the White House," said Lauri Hornik, president and publisher of Dial Books for Young Readers, in a statement, per People. "This is a news item that even the youngest kids can join in celebrating. How wonderful to be able to publish this darling read-aloud for all of those kids and their parents! Joy McCullough and Sheyda Abvabi have created a picture book that's pure joy."
The release of Champ and Major follows Major's "indoguration," a virtual event held Jan. 17 that raised more than $200,000 for the Delaware Humane Association (DHA), the shelter from which the Bidens adopted Major.
"We are thrilled to participate in what will hopefully be the world's largest Zoom call for dogs," DHA's executive director, Patrick J. Carroll, said in a statement. "2020 was a tough year for all of us financially — both for animal shelters and pet owners alike. Here at DHA our mission is to make 'friends for life' by connecting people with animals, and by building strong relationships to better serve our community. With Major heading to the White House, it's our sincere hope that we can continue to connect more homeless animals with families than ever before. If a shelter dog is good enough for the White House, they're good enough for your house!"
The book is currently available on Amazon for about $16.
This article was originally published on