We'll Be Drinking Spiked Eggnog From This 'National Lampoon's Christmas Vacation' Glass Moose Mug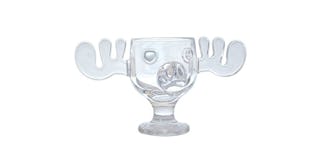 Amazon
Every year, my family and I watch National Lampoon's Christmas Vacation after we're done eating Thanksgiving dinner. It's cheesy, outdated, and the some of the jokes have not aged super well, but it's tradition nonetheless. Even if this holiday season is looking different because of COVID-19, I still plan on streaming or renting Christmas Vacation, even if it's with just myself and my husband. We have to! What better way to ring in the holiday season than by watching Clark Griswold try to pull off the perfect Christmas only to have literally everything go wrong?
And since I've been looking for ways to make the holiday season feel a little more normal, I spotted this Christmas Vacation glass moose mug that Clark and Eddie use to sip egg nog from while Eddie's Rottweiler chugs tree water (and we all know what that led to later on), and you know what? I'm going to buy it, because there will be a lot of (spiked) egg nog this year and I might as well make it more fun. Made of glass and holding up to 8 oz. of liquid, this moose mug is perfect for hot chocolate, hot toddies, and other festive drinks.
It also make the perfect holiday gifts for everyone you know, because just about everyone has seen National Lampoon's Christmas Vacation and there's no such thing as too many mugs in the house.
The moose mug is also a great gift for yourself if this is how you're feeling these days:
Here's to eggnog and hopefully getting our holiday bonuses this year!
This article was originally published on