Learn To Cook Like An Authentic Italian Grandma With This Live Cooking Class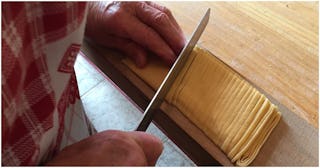 StackCommerce
Oh, Italia! After over a year without travel, the idea of visiting the Italian countryside and partaking in a delicious traditional meal makes our mouths water (and after the year we've had, we should head to the place with a fountain where wine flows like water!). But until we can book the flights and dust off our suitcases, there's a way to bring the Italian culinary experience into our homes—for less than $50. The Nonna Live; Cooking Pasta with Nonna and Family course brings delicious Italian cooking to you, as you get to learn how to make a wonderful meal from a true professional, Nonna Nerina. And right now, you can get access to a live class and an ingredient and utensil list for just $45.
You can't get more authentic than Nonna Nerina, the quintessential Italian grandma who is ready to teach you how to cook up one of her family's famous recipes live via Zoom. Nonna Nerina, her granddaughter Chiara, and their entire family will walk you through a classic Italian cooking experience, allowing you to craft the Italian meal from the comfort of your own kitchen.
If you're worried your pantry and kitchen might not be equipped to create the perfect Italian cuisine, don't be. A week before your class you'll receive a shopping list of ingredients that you'll need to make the meal. There will also be a link to an Amazon storefront where you can buy all the special utensils you'll need before your big night. The family has truly thought of it all, as they'll also give you some wine pairing suggestions to complete the perfect meal. Nonna Nerina and her family will provide you with all of this info and also share how to connect virtually on the day you book your class.
After purchasing this live cooking class, you'll go to Nonna Live to redeem your code. Pick from the numerous classes and choose your preferred time and date, depending on your schedule. Then, all you have to do is sign on Zoom and get ready to make a masterpiece under the guidance of Nonna Nerina!
Buy your one Nonna Live: Cooking Pasta with Nonna and Family class for just $45 today.
Prices subject to change.
This article was originally published on