These Healthy Living & Cooking Courses are Just $30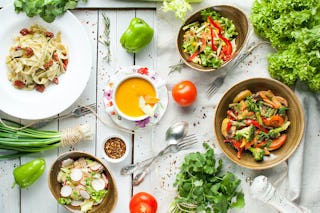 StackCommerce
When you started a family, you probably had a new interest in health you may never have had before. Suddenly you were researching the positive and negative effects of cow's milk or what vitamins are in broccoli. But somehow with all that focus on your kids' health, many parents end up treating their own bodies worse than they ever did. Get yourself back on track with healthy recipes and superfoods. You can learn how to integrate them into your life with this Healthy Living and Cooking Bundle of courses.
Superfoods have been a buzzword, but there's real weight behind their powerful effects on overall health, weight loss, strength-building, and more. Certified nutritionist, Felix Harder, teaches the bundle's Superfood Nutrition course, which packs over 60 superfoods you'll want to start integrating into your diet.
Most superfoods are natural to the planet, and you may find yourself more interested in a vegan diet as you start feeling the effects of plant-based nutrition. An included Vegan Nutrition course covers everything you'll want to know about a healthy vegan diet, like maintaining a healthy calorie-count and building muscle without ingesting animal proteins.
This bundle covers well-rounded health, so in addition to dietary focuses, you'll also get some information on exercise, and even motivation. The Complete Health course aims to deter you from the amateur fitness know-it-alls on Instagram, and instead, provides you with real knowledge that gets real results. One student reviewed, "Great all-encompassing course, especially helpful for fitness and nutrition beginners. I appreciated the video showing exactly how to do the exercises."
The Complete Healthy Living and Cooking Bundle includes seven courses and 337 individual lessons to get your body and mind on the right track. The pack is typically offered for $1393, but you can get all seven courses at a 97% discount while the bundle is $29.99.
Prices subject to change.
This article was originally published on