Calling All Sarcastic Humans: You Need This Subscription Service In Your Life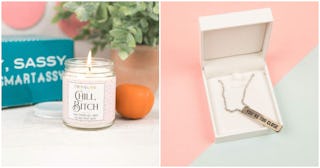 Smartass & Sass
Not gonna lie, my favorite days of the week are when I get my packages. It doesn't really matter what I order — what matters is that I have something new and shiny to look at, and that's pretty much what's getting me through the 2020-2021 pandemic. You feel me?
I was texting with my friends about this (how mail is the only thing I look forward to anymore, lol) and one of them told me about Smartass & Sass, which are the two words you'd find in the dictionary when you search for my name. "It's a subscription service for, like, smartasses who love to cuss," she told me. And that's when I knew I was instantly in love. I had to get my hands on one of these subscription boxes.
Smartass & Sass sends you a monthly snark package full of curated, hand-picked gifts that come from artists and small businesses. So, not only are you getting a box full of sassy presents, but you're supporting small businesses (which is really important to me, personally).
Smartass & Sass offers three subscription boxes: One is a shirt-only subscription that sends you a soft T-shirt you'll likely never want to take off (this is $15.95 plus shipping every month), the second is an S&S box which comes with 5-7 full-sized products ($34.95), and the third is a S&S big box subscription, which comes with the full-sized products *plus* a T-shirt ($49.95).
I've been getting the S&S box subscription for two months now, and so far my favorite items have been a "Back Off" oversized tote bag which is very on-brand for me.
This "Slay Spray" room spray.
My "Obey the Rules, Miss the Fun" keychain.
And this "I Run on Caffeine and Cuss Words" hoodie because I really, really do, and it is SO comfortable.
Smartass & Sass is the subscription box you need to gift yourself (or your friends), pronto. And if you're not ready to commit, you can just check out their shop, which has 150+ curated products for us sassholes.
This article was originally published on