Have Your Own Copy Editor At Your Fingertips With This Award-Winning Software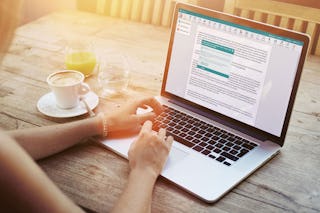 StackCommerce
Did quarantine make you realize you need a new hobby? Writing is an underrated pastime that can even come with some surprising benefits. Whether you've always had an idea for a novel marinating or you'd like to sharpen the skill for potential employment options, we could all use a little help when it comes to writing better and faster. If you'd like to have your own personal editor on hand (and receive a few courses to sharpen your skills), The Award-Winning ProWritingAid Lifetime Subscription Bundle is ready to help. This bundle not only includes the best proofreading software, but also gives you access to courses on the craft, and a lifetime subscription is available now for just $199.
You're editing the kids' homework all the time, so wouldn't it be nice if someone could double-check your work? ProWritingAid gives you a copy editor right at your fingertips. It goes beyond just typo fixes; it also utilizes world-class grammar- and style-checking. Aside from making tweaks to your writing to polish it perfectly, ProWritingAid also provides you with in-depth reports so that you're learning what changes were made and how to improve your writing in the future.
The software includes AI-powered analysis and real-time in-app suggestions, explanations, videos, and quizzes, so you'll be learning as you go. And, if you'd like to broaden your education, you'll also be receiving a lifetime membership to ProWritingAid University. This online school gives you access to self-paced courses, live monthly writing challenges and daily exercises, and exclusive live training events and workshops, so you can learn more about the art of writing from the comfort of your couch.
Find out why ProWritingAid has scored an impressive 4.7 stars on Google, 4.4 stars on G2, and 4.7 stars on Capterra, and why Kindlepreneur named it a Best Proofreading Software to Use: 2021 Edition. Enhance your writing with The Award-Winning ProWritingAid Lifetime Subscription Bundle today for $199.
This article was originally published on