People Are Obsessed With This Two-In-One Cordless Vacuum Cleaner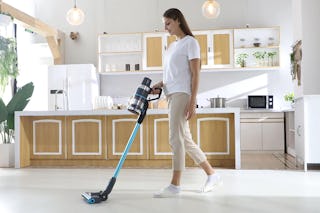 StackCommerce
Cleaning kind of sucks, but it's also kind of necessary. You can make it at least a little less of a chore by upgrading your tools and appliances, but that usually costs a ridiculous amount of money and involves reading an infinite number of reviews. So when there's an opportunity to score an Amazon's Choice product at a discount, like this JASHEN V18 two-in-one cordless vacuum with a four-stage high-efficiency filter system, you act fast.
This 4.6-star rated vacuum cleaner is made to suck up dirt and crumbs from your carpets and hard floors with a powerful 350-watt digital brushless motor that's designed to keep things a bit more quiet and a two-in-one dusting brush. Once its 2,500mAh battery is charged up, the LED screen displays the remaining run time, power mode, and filter cleaning alerts, to add some ease to the job. You'll be able to glide along from floor to floor without changing heads for up to 40 minutes before needing to dock for a juice boost—and who wants to be vacuuming for more than that minutes anyway?
Need a handheld, too? The JASHEN V18 can be whatever you need it to be with its included attachments and accessories.
"From vents to under seats and along the doors and seats, the small motorized head does very well in getting dirt from carpets and fits well to baseboards," is all you need to hear from the five-star review provided by Robert S. who uses his V18 tidy up the interior of his car.
Vacuum cleaners aren't cheap, and the JASHEN V18 Cordless Vacuum Cleaner is typically no exception at $350 MSRP. For a limited time, you can get yours for $189.99, a savings of 45%.
This article was originally published on