Regain Your Sanity From Zoom-Schooling With This Creative Hobby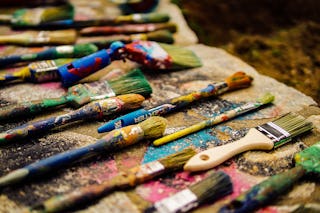 If you've been missing your weekly girls' night retreat from the wonderful but exhausting mom life, you should definitely find an outlet. Carving out a little time for yourself is important for your mental health and helps you be a more patient and fun parent. While your group wine tasting or pottery class is still pretty far off, you can flex your left brain with painting and drawing—even if you're a beginner—thanks to the courses in the Ultimate Creative Arts Bundle.
If your brutally honest four-year-old once told you your portrait of Frozen's Elsa looked like Fiona from Shrek, you'll be delighted to know that this bundle includes six courses to teach you drawing skills from the ground up. First, to impress that kid of yours, you'll want to start with the How to Draw from Beginner to Master course, which will cover the various pencil lead weights, when to use each, shading techniques, and how to draw those tough facial features.
The Ultimate Creative Arts Bundle has several courses for painters in training, and each one covers a different style to learn and master. You'll get comprehensive lessons in painting watercolor landscapes with Colin Bradley, a successful artist and gallery owner, and a lesson in realistic watercolor in the style of Alfred Robert Quinton.
You'll be channeling your inner Bob Ross in no time with additional courses in how to paint skiing landscapes with watercolor and still life paintings. Your new skill will not only impress during arts and crafts at home with the family but will also serve as a convenient way to make personalized gifts during the holidays—and just might score you some show and tell points when school is back in session.
Release some stress and get your hands on the Ultimate Creative Arts Bundle while it's 97% off, making it $34.99 for a limited time.
Prices subject to change.
This article was originally published on