Get Gorgeous Curls In Half The Time With This Innovative Curling Rod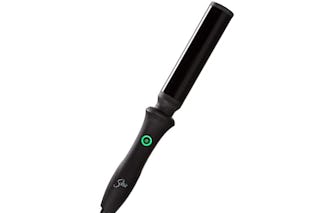 StackCommerce
Self-care is important and looks different for everyone, but moms everywhere are known to feel guilty for taking time for themselves to make it happen. But as the world starts to open up, most of us have learned the importance of filling up our own cups after the hell that was 2020. If making sure you have flawless hair is something that makes you happy, it should be a priority in 2021. And since time is precious when you're raising little ones, the Sultra Bombshell 1.5″ Clipless Curling Rod helps make that happen in half the time. This awesome curling iron is currently on sale for $49.99 for a limited time, so consider this your sign to add to cart.
Have you found yourself wondering if you even remember how to style your hair post-pandemic? You're not alone, and a new beauty routine might be just what the doctor ordered! Let the Sultra Bombshell 1.5″ Clipless Curling Rod nurture your tresses as you get a gorgeous look. It's equipped with advanced care ceramic technology that helps defend your hair as you style with its constant 395°F heat, allowing it to smooth the cuticle and lock in your look as you go.
The dual-heater system gives you even heat distribution with no "cool" spots like other big barrel curling irons, and the clipless curling means you'll spend half the time you use to with traditional clip curling irons, while also avoiding those pesky clip lines. The result? Shiny, voluminous curls and waves in half the time it used to take you! And in the most perfect feature for busy moms, it also includes an auto shut-off capability that means you won't be second-guessing whether you turned it off when you're in line for the kids' school drop-off ever again.
With 4.1 out of 5 stars on Amazon, it's clear users are loving this innovative curling tool. Happy customer, Tanya Z. raves, "Totally worth the money…usually 1.5 inch irons do not create sustainable waves but this one does. Big loose bouncy waves with shine. It creates more than just bending the hair like some users are saying. I get so much volume and lovely waves and curls depending on how you style the hair."
Give your hair some TLC while giving yourself the gift of bombshell hair with the Sultra Bombshell 1.5″ Clipless Curling Rod. It's available now for $49.99.
Prices subject to change.
This article was originally published on