This Custom 3D Pet Pillow Is So Cute, You'll Snuggle With It More Than Your Actual Pet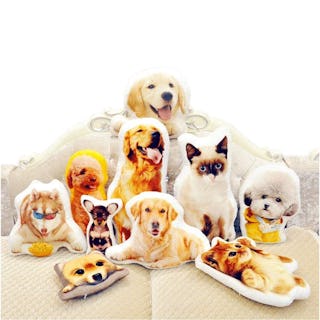 Sure you can take ordinary photos of your pets and stick them to your fridge, or even frame them and keep them in a curated collection on the top of your baby grand piano, but why would you bother when you can create a custom 3D pillow of your precious dog or cat (or cockatoo) and snuggle with it on the couch.
The ideal gift for pet lovers, this personalized pillow is custom created based on any photo you upload, and printed on high quality short plush, smooth, non-fading and anti-pollution, machine-washable fabric with just the right amount of fill for a super-soft, squeezable shape. It also makes a loving tribute for a pet who has passed. Says one reviewer,
"I had purchased the pillow as my cat Momo had recently passed away and it's been hard on me. This pillow is really soft and the photo of my cat was great! They did an amazing job on the pillow and I love that it's double sided."
Don't have a pet? No worries, these pillows come human-shaped too.
This article was originally published on