24 Gift Ideas For Your Daughter-In-Law (Because She Definitely Deserves To Be Pampered)
by Jenn Sinrich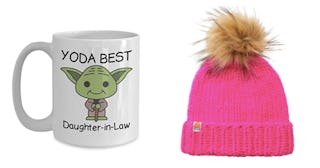 Amazon/Nordstrom
If you're a father- or mother-in-law just starting (or well into) your holiday gift shopping, one of the people you may be stumbling on is your daughter-in-law. After all, you've only known her for a handful of years (or maybe more) and might not know what she wants most for the holiday season, especially if she's a mom. And, chances are, your son or daughter isn't all that helpful in spilling the beans on what their significant other is super keen on receiving as a gift this year.
If your daughter-in-law has given you grandchildren, you really don't want to f*ck this up. You're going to want to put some serious thought into what to get this saint of a woman who is probably in desperate need of a spa day or some relaxing self-care gifts at least.
The good news: We've got your back. We're rounding up some of the best gifts to for a daughter-in-law. Not only will she be extremely appreciative, because you knew just what she could use this year, but she may even be tempted to give you another grandchild if you keep this great gift giving up! (LOL, JK.)
Keep scrolling for a list of the best gift ideas for daughter-in-law.
Christmas gifts for daughter-in-law
Cool birthday gift for daughter-in-law
New daughter-in-law gifts
Funny daughter-in-law gifts
Check out our other gift guides for shopping inspiration this holiday season.