40 Dirty Santa Gifts That Are Absurdly LOL-Worthy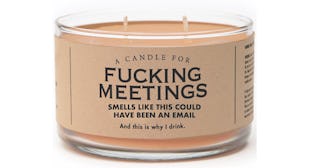 Always Fits
If you thought coming up with gift ideas for your father-in-law or for your boyfriend was hard, try coming up with Dirty Santa gift ideas. Similar to a White Elephant exchange, a Dirty Santa exchange is where everyone brings a wrapped gift and as guests start to open them, other guests can choose to steal previously-unwrapped gifts or pick a new one. As in, you somehow have to find a gift that's suitable for a range of ages, genders, and personalities. Ugh.
Fortunately, thanks to Amazon, there are plenty of great gifts out there for a Dirty Santa exchange, from the hilariously inappropriate to the surprisingly practical. Below, we've rounded up the best Dirty Santa gifts of 2020 for every budget and every person. Psst: They're so good, you might just want to steal back your own gift!
Dirty Santa Gift Idea for $15
Dirty Santa Gift Ideas for $20
Funny Dirty Santa Gifts
Looking for more holiday shopping ideas? Browse all of our gift guides here.