The Disney X Aldo Collection Is For Adult Disney Fans Who Wanna Look Chic AF
by Madison Vanderberg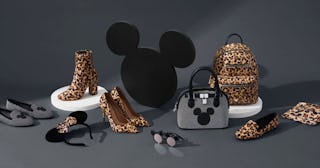 Aldo
Disney X Aldo's new capsule collection makes the case for classy and upscale Disney merch
We love Disney, we really do, but sometimes we wanna rock our Disney love in something other than mouse ears and a boxy cotton crew-neck with a picture of Tinkerbell. For the adult Disney fans who love rocking merch, but wish there was something a tad more elevated, we give you the Disney x ALDO: Mickey Mouse & Minnie Mouse Anniversary Collection.
https://www.instagram.com/p/B3F3aYCgy8i/
Plenty of high fashion brands have teamed up with Disney for exclusive and fashionable takes on the house of mouse — the Coach collection remains one of the most popular luxury collabs — but in terms of affordable Disney merch that you can, you know, buy at a mall without breaking the bank, the Aldo collab is where it's at.
Disney and shoe giant Aldo teamed up on this ultra-luxe Mouse-inspired collection that includes ankle booties, heels, handbags, backpacks, ears, and wallets, and it is truly the Disney collection for a grown-ass woman. There are two collections: The Nostalgic and the Modern. The Nostalgic collection features '90s-era Minnie and Mickey Mouse prints on new school footwear, whereas the Modern collection puts a mouse-inspired twist on trendy prints.
The Stepinmagic ($110) block heel may not be ideal for stomping around the park, but the photo ops would be **kisses fingers** perfection. Wearing these would also give you a good excuse to opt-out of the annoying rides (sorry but Star Tours will forever give me migraines) and chill on a bench, people-watching, in your chic shoes.
These sassy heels also come in a faux leopard pattern.
The Ohsomickey ($140) military-inspired boots are totally badass and would be great for a long day at a Disney park or just running errands around the neighborhood.
There's also the Trueoriginal ($70), a slip-on white sneaker covered in Mickey Mouse doodles.
The slip-on also comes in their signature mouse meets leopard print, if doodles aren't your thing.
"These special edition items for men and women are meant to be worn, played-in, admired and collected," Aldo stated online. "Playfully balancing between our cherished Disney memories and yet reimagined in a modern interpretation, our offering includes studded loafers (perfect for your upcoming holiday party lineup), slip-on sneakers, our signature Stessy silhouette in an iconic Minnie Mouse yellow, and our custom leopard print on everything."
There's also a men's collection, in case dad wants in on the fashun.
This capsule collection is only around for a limited time and a lot of the styles are already sold out, so head on over to the Aldo X Disney shop online or to your local Aldo retailer and get your Disney on.
This article was originally published on