Disney Just Released A Ton Of Exclusive Parks Merch To Buy Online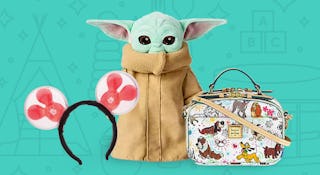 Missing Disney parks? Now you can buy some of their most exclusive merch online.
The coronavirus pandemic still has all Disney parks around the world closed indefinitely, and for those who are missing out on long-planned trips to the Happiest Place on Earth because of it, we can't even imagine the disappointment. But the House of Mouse is doing all it can to help ease the pain of social distancing, from releasing exclusive new content animators are creating at home, to posting closely-held parks recipes online so people can make treats like Dole Whip and churros.
And now, Disney has made some of its most exclusive parks merchandise available to buy online, and excuse me while I go on yet another e-shopping trip I don't need.
Seriously, the new items that were just posted online are some of the most coveted treats that people really pound the pavement at the parks to find. Now, you can shop it from the comfort of your home and have it delivered to your door. Disney has really made this as easy as possible.
Best Disney Park Must-Haves
Best Disney Purses & Backpacks
Best Disney "Souvenirs"
Best Disney Games & Entertainment
There are so many more items available, and so many of them were previously only available at the parks, so act fast if you want to get your hands on some of this stuff without lining up a whole vacay. It's all available now at Shop Disney.
Bored at home? You'll love these mom-approved toys, games, and activities to keep everyone entertained during quarantine.
This article was originally published on