Disney Villains Monopoly Is Here, Because We All Know The Best Characters Are The Evil Ones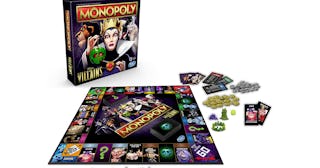 Amazon/Hasbro
If you found yourself siding with Ursula or Jafar when you were growing up (or hell, even now — maybe more so now that you're older and wise and wonder WTF was Ariel even thinking, giving up her entire life to be with some guy, ugh) you're going to want to get Monopoly's new Disney Villain edition board game. Even if you have the original version, this one has so many new features, you'll be happy to have both.
RELATED: 12 Scary And Haunted Games That'll Leave You Terrified
Instead of picking the thimble or dog, you get to be Maleficent, Jafar, Hook, Cruella, the Evil Queen, or Scar, and in this new edition you're actually incentivized to scheme your way to the top. Each character has a special power which gets "activated" as soon as you pass "Go." It also comes with Poison Apple cards that lets your inner baddie steal properties, money, and force other players to go to jail. And yes, you should totally yell, "Bwahahahahah" every single time you do so.
Other things to know about the Disney Villains Monopoly game: Instead of buying up properties, you're actually buying other villains' loyalties so that you build the biggest and baddest group (it's kind of mafia-esque, and I love it). This game also doesn't have the Monopoly money you're probably used to. Instead, players get gold and silver coins that are adorned with Jafar's snake and the Evil Queen's crown.
If you collect Monopoly games, check out the Avengers edition, Friends edition, and White House Divided edition (how timely!), all available on Amazon.
This article was originally published on