How To Get The Skills To Turn A Drawing Hobby Into A Career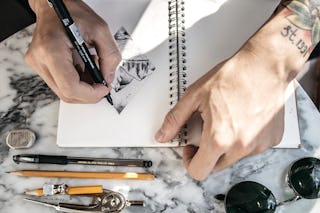 StackCommerce
If you have a kid who just loves to draw – or maybe you were that kid – you've probably heard it referred to as just a hobby. That hobby can actually be translated into a real-world career like the obvious in animation, or less obvious careers in motion graphics, set design, makeup, industrial design, and more. Set your kid up for success with this Fundamental Drawing Bundle for Beginners, which will inspire them in prospective careers through 12 engaging courses.
The bundle earned its average five-star rating for its affordable price, easy-to-follow video tutorials, and diversity of courses included. Courses like the included Adobe Illustrator Masterclass will teach artists how to take the drawings from their sketchbook and apply them to the industry standard program for developing digital assets that can be turned into anything from wallpaper to kitschy t-shirts. Designer, Helen Bradley, teaches the course by cutting to the chase. She'll waste no time getting into the details of clean-up on scanned images for tracing, repeating patterns, and how to use Image Trace to vectorize drawings.
This bundle will help you master Manga Studio 5 too, with a Fantasy Art course that instructs how to digitally draw and paint elements like magical weapons, rock formations, power effects foliage, and detailed characters. The course is taught by comic book artist, Robert Marzullo, who earned stellar reviews from his excited students on Udemy and YouTube.
The total of 340 lessons in this bundle cover tons of other skills with course focuses like, Drawing Animal Portraits, Shading Beyond the Basics, The Complete Pencil Drawing and Shading Course for Beginners, How to Draw Dynamic Comic Book Superheroes, How to Draw Heads From Any Angle, Improve Your Figure Drawing, Draw Perspective for Beginners, and even more.
Score the 12-course Fundamental Drawing Bundle for Beginners, valued at up to $200-each, for just $39.99 while it's 96 percent off.
Prices subject to change.
This article was originally published on