Add These Drugstore Eye Creams to Your Cart ASAP
by Jessica Waller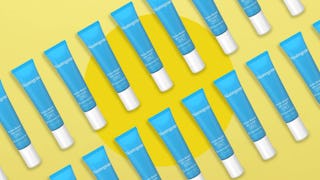 If your dark under-eye circles and fine lines (please let's not call them crow's feet!) are a little more pronounced lately, we feel you. Between staying up late to binge The Crown and wrangling holiday menus and gifts for your hard-to-buy-for MIL, we can't be the only ones in need of a little help in the brightening, hydrating, and de-puffing department. Enter: eye cream.
This skincare classic has its fanatics and critics, but tbh, we'll fork over some cash for anything that even slightly promises to make it look like we slept a straight eight (when in reality the baby woke up no fewer than three times and the toddler needed a sheets-change at 2 a.m.).
From roll-on options that take the place of chilled spoons and cucumber slices (who has the time?!) to anti-aging, antioxidant-rich formulas that tighten, plump and combat those tiny lines, there's a flavor for everyone. And because having a good eye cream and being on a budget shouldn't be mutually exclusive, here are the best drugstore eye cream options available for (mostly) under $20.
And to round out your morning makeup routine, here's our list of more beauty must-haves.