The Best Drugstore Primers That Are *Actually* Worth The Hype
by Anjerika Wilmer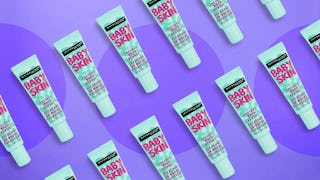 Let's talk primers, baby! Nobody—we mean, nobody (especially not all you working mommas)—should have to settle for anything less than a flawless complexion. Everyone's skin is different: It's just a matter of finding a formula that works best for you. Whether you're looking for 24/7 coverage or have a specific skin concern in mind (dry patches, oily skin, enlarged pores), a good primer will work its magic around the clock to minimize the look of pores and mattify your skin. Wear it as a base for your foundation or test-drive the no-makeup makeup look that's all the rage these days. Ladies with mature skin, you can officially kick blemishes and fine lines to the curb by scooping up a primer with age-defying benefits.
To busy moms (and boss babes) everywhere, we have you and your skincare needs covered the next time you find yourself in a pickle. Keep reading for the best drugstore primers that will make you glow.
Which of these drugstore primers will you be scooping up? For all your winter style essentials, be sure to check out Scary Mommy's Beauty Must-Haves.