Listen To Your Favorite Jams Or Podcasts Without Interruptions With These Noise-Isolation Earbuds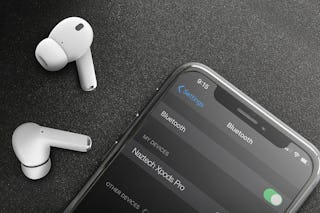 StackCommerce
We all have our favorite podcasts these days. In fact, as many of us spent the last year home with our families, it sometimes felt like podcasts were our lifeline to the outside world. So imagine how nice it would be to listen to your weekly faves without having to hear the ambient noise of the kids bickering or your partner's conference call in the background! These days, wireless earbuds with noise isolation don't have to break the bank, and Xpods Pro are proof of that. Right now, the Xpods Pro True Wireless Earbuds and Charging Case are available for $20 off with coupon code XPOD20, making them just $49.99 for a limited time.
Aside from being offered at a much more affordable price, the Xpods Pro True Wireless Earbuds have some must-have features that set them apart from the competition. For starters, they are equipped with smaller earbuds that have customizable tips. So, unlike uncomfortable earbuds that never seem to fit right, the Xpods have clear and flexible silicone eartips that ensure a great fit while locking in the sound. That means you'll hear less of the many background noises in your house, thanks to their fit and noise-isolating seal. You can enjoy your playlists or podcasts how they're meant to be heard with rich acoustics thanks to the Xpods' precision-tuned drivers.
They're packed with the latest Bluetooth technology, so there's no need to worry about losing the signal or taking forever to receive data. And there are even super intuitive touch sensor controls that make working with them a breeze. And if your mom or bestie calls, there are two microphones packed with enhanced voice-capture technology so you won't miss a word of the conversation.
Fully charged XPods Pro give you 5 hours of playtime, but they also come with a wireless charging case that gives you another 20 hours of play time. That means you'll have over a full day of music or podcasts anytime, and you can conveniently power up the charging case with any Qi wireless charger in less than two hours.
Take a much-needed break and tune out for a while with the Xpods Pro True Wireless Earbuds and Charging Case. They're available now for $49.99 with coupon code XPOD20.
Prices subject to change.
This article was originally published on