Early Black Friday Deals Are Here, And You Won't Want To Miss Out
by Gina Vaynshteyn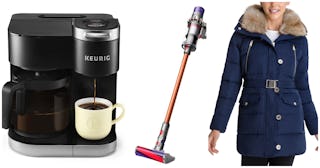 Kohl's/Best Buy/Macy's
We know, we know. It's only mid-November. But are you really that surprised we're already seeing early Black Friday sales in 2020? This year has been a wreck, and so obviously retailers are trying to make it up to us (and themselves, via us) by dropping deals way ahead of schedule. We love a good deal, and we love getting holiday shopping done as early as possible, so we won't ask questions. Find deals on everything from Dyson, to Instant Pot, to Ninja products.
Do yourself a favor and bookmark this page, because we'll be updating it on the regular as soon as we hear whispers of an early Black Friday sale, or get the scoop from our secret sources. We'll pretty much stop at nothing to make sure y'all have the best deals in front of you before actual Black Friday, so you're in good hands. Without much ado, let's talk pre-Black Friday sale$$$.
Best Early Black Friday Sales:
Walmart
Home Depot
Macy's
Best Buy
Amazon
Kohl's
Nordstrom
Wayfair
Check out more Black Friday and Cyber Monday deals here!