Limited Time: Echo Dot comes with 4 Months of FREE Amazon Music Unlimited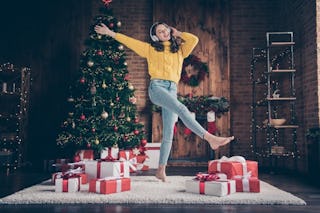 Amazon's Echo Dot is super hot right now. Not only is it a do-it-all voice assistant for the whole family, but it also makes a perfect gift at a decent price point, $22 this Black Friday through Cyber Monday.
And for a limited time, there's a huge add-on that creates an amazing deal. When you buy an Echo Dot now, you'll get four FREE months of Amazon Music Unlimited (AMU), with access to over 50 million songs!
Let's break down both pieces of this crazy deal:
Fist off, with the Echo Dot:
Your girl Alexa is at your service, with tens of thousands of skills, like playing music, reading the news, setting alarms, and even telling you (or your kids) jokes.
You can control your smart home devices, from turning on the lights to locking the door, or setting the thermostat.
You can stream music, audiobooks, etc. and listen while you're working out, getting ready for work, or doing stuff around the house.
And now you get four FREE months of Amazon Music Unlimited when you buy an Echo Dot, too:
Over 50 million songs from virtually any artist you can think of
Unlimited skips, offline access, and totally ad-free
Integrate it with Alexa to combine the best of both worlds.
So pair 'em both up as your very own holiday treat, or grab a Dot as a gift and check out Amazon Music Unlimited for yourself. It really is the most wonderful time of the year.
BUY AN ECHO DOT AND GET 4 FREE MONTHS OF AMU »
This article was originally published on