Skip Expensive, Trendy Ergonomic Chairs -- BetterBack Is All You Need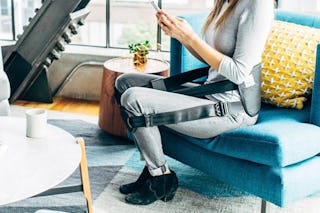 Spending six to eight hours in front of a computer can take a toll on your back. Add in hobbies like moviegoing, gaming, and even playing the piano, and your back could be in pretty poor shape. Part of the problem could be an unsupportive seat, and the other part could simply be your posture. Fix both with this NASA-engineered memory foam corrective device—it's on sale for under $50 today.
BetterBack Luxe Posture Support gives the ergonomic support of an expensive chair at a fraction of the price. Even better, it's compact and able to come to work, back home, and even to the movies with you.
BetterBack was successfully funded on Kickstarter and has resulted in tons of stories about better backs. One user, Lisa W., wrote, "This morning my 92-year-young Mother was sitting up straight on the couch; not packed in the usual heap of pillows to keep her upright while reading her newspaper completely through, without back pain for the first time in too many years to count. What a great Christmas present that is surprisingly easy for her to put on and she feels naturally positioned."
Getting BetterBack ready to go is easy with custom flexible straps to get the right fit, slip-resistant knee pads to prevent irritating slipping and sliding, and a water-resistant outer shell. The high-quality material will last for years and—when used for just 15 minutes a day—can retrain your body's default posture, which can help you feel more comfortable when you're standing and exercising too.
Score your own Better Back Luxe Posture Support while it's 16 percent off at a final price of $49.99 for a limited time.
Prices subject to change.
This article was originally published on